(RFE/RL) -- The world's largest showcase of civilian and military aircraft and equipment, the Paris air show, has opened at Le Bourget Airport.
Some 2,000 exhibitors from 48 countries will be exhibiting their wares to potential buyers and members of the public. This year marks the centenary of the show, which is held biennially and lasts a week.
But events have conspired to cast a pall of gloom over this edition of this famous aviation gathering. Normally, billions of dollars' worth of orders flow to manufacturers in every sphere of aviation activity.
But this year the world economic crisis has ensured that tourist bookings and business flying have be sharply curtailed, meaning fewer orders for new airliners and equipment. The two big rivals on the passenger-jet market, Boeing of the United States and European Airbus, are said to be expecting only about a hundred firm orders each, compared the usual tally of several times that number.
It doesn't help that some $800 billion-worth of aircraft already previously ordered -- in the times of rapid economic expansion -- have not yet been delivered by the manufacturers, amid growing doubts of the airlines' ability to pay for them.
The mood of the show is further dampened by the crash on June 1 of an Air France Airbus A330 off the Brazilian coast, with the loss of all 228 people on board. The cause of the disaster is still a mystery, but inevitably it saps public confidence in the safety of air travel at a bad moment.
Even the swine flu, just declared a pandemic by the World Health Organization, seems certain to deter more people from flying to international destinations in the months to come.
All in all, it's a bad time to launch a brand new model of airliner on the world market. But the Russian company Sukhoi, famous for its Soviet-era fighter jets, has done just that. Paris will see the new medium-haul "superjet," designed to carry between 75 and 95 passengers.
The military aviation sector has also been hit by the economic recession, as governments tighten their belts.
Still, Boeing hopes its military sales can pick up some of the slack left by the slump in civil aviation. Jim Albaugh, chief of the company's defense arm, said in Paris this weekend that he envisages growth in exports over the next five years from the present 16 percent of output to 20 percent.
compiled from agency reports
World Economic Crisis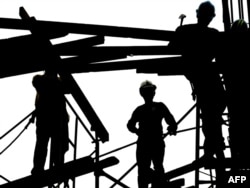 Multimedia coverage on the impact of the global financial crisis on markets and individuals across RFE/RL's broadcast region. More