WASHINGTON – A new report from the top U.S. commander in Afghanistan is being reviewed by the White House national security team, as debate intensifies in Washington on the best way forward in the conflict.
The contents of U.S. General Stanley McChrystal's strategic review on Afghanistan are confidential and President Barack Obama is not expected to address the issue publicly until next week.
But the review is believed to make a case for sending more U.S. troops to Afghanistan, among other measures.
It comes as public opinion polls in the United States show support for the Afghan war effort is at an all-time low, putting the administration under additional pressure.
At a September 3 news conference at the Pentagon, U.S. Defense Secretary Robert Gates and the chairman of the Joint Chiefs of Staff, Admiral Mike Mullen defended the U.S. mission Afghanistan as the right approach.
Gates and Mullen took reporters' questions for around a half an hour, but the main messages can be neatly summed up: Yes, we understand that the American public is tired of being at war. No, the United States is not going to withdraw from Afghanistan even if public support continues to slip away. And yes, we will seriously consider adding more troops if that's what our top commander says he needs.
Asking For Time

In March, President Obama unveiled his new offensive strategy to defeat and dismantle Al-Qaeda and its supporters, protect Afghan citizens, and deal with a growing insurgency.
In May, he sacked his top U.S. commander and brought in General Stanley McChrystal to replace him.
And all summer, thousands of Marines have been arriving in Afghanistan, representing just a portion of the troop buildup Obama authorized after taking office last January.
At the press conference, Mullen said what's needed now is time. Time for the counterinsurgency strategy to work, for the troops to clear, hold, and build up key areas, and for citizens to feel protected against the Taliban.
"We've got new leadership, new strategy, resources moving in, and I think this approach has great potential, but it's going to take some time to start to turn this," Mullen said.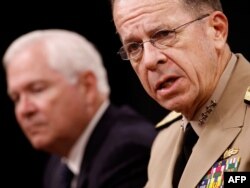 Secretary of Defense Robert Gates (left) and Admiral Mike Mullen
The United States has been in Afghanistan for eight years, Mullen said, but "in certain ways [it is] starting anew." And although he acknowledged that there is "a sense of urgency," he expressed confidence that the United States and its NATO allies can regain the initiative.
The Obama administration's optimism is in large part due to the more robust U.S. military presence. By the end of the year, the size of the U.S. force will reach 68,000 -- more than double its size one year ago.
McChrystal's assessment of the situation on the ground is being dissected by the country's national security team, which includes U.S. Central Command head General David Petraeus, the joint chiefs of staff, and Gates, among others.
The report and their thoughts on its conclusions will be given to Obama early next week, although Gates said he already "informally forwarded a copy to the president for an initial read."
Gates characterized McChrystal's report as a blueprint for success in Afghanistan and said U.S. and allied forces are "only now beginning to be in a position...to implement the strategy," even as he acknowledged that there is "limited time" to prove that the new approach is working.
"We are mindful of that, we understand the concerns on the part of many Americans in this area, but we think that we now have the resources and the right approach to begin making some headway and turning around a situation that, as many [people] have indicated, has been deteriorating," Gates said.
Shrinking Support
Those concerns are reflected in public opinion polls, several of which have recently shown that more Americans than ever do not support the idea of sending more troops to Afghanistan.
The most recent poll, released by CBS News on September 1, found that 41 percent of Americans want to see fewer troops in Afghanistan. Only 25 percent think troop levels should increase -- a drop of 14 points since April.
Obama's own approval rating on his handling of Afghanistan has dropped eight points since spring and now stands at 48 percent.
The dominant mood in the country is one of pessimism, and Gates said he understood why, but disputed the suggestion that the White House is losing the war.
"I don't believe that the war is slipping through the administration's fingers. The nation has been at war for eight years," Gates said. "The fact that Americans would be tired of having their sons and daughters at risk and in battle is not surprising. I think what is important is for us to be able to show, over the months to come, that the president's strategy is succeeding."
At least one influential political commentator doesn't have the patience to wait. Conservative pundit George Will caused a stir this week with a column in "The Washington Post" on September 1 headlined, "Time to Get Out of Afghanistan."
His reasons included the fact that the country has never had a functioning central government and the argument that a successful counterinsurgency would require hundreds of thousands of troops fighting for a decade or longer.
Will proposed that U.S. and NATO forces should be considerably smaller and tasked with a vastly different mission than they are now. Will wrote, "America should do only what can be done from offshore, using intelligence, drones, cruise missiles, airstrikes, and small, potent Special Forces units, concentrating on the porous 1,500-mile border with Pakistan" -- a nation, he said, that "actually matters."
Asked what he thought of that proposal, Gates said: "I absolutely do not think it is time to get out of Afghanistan, and I think that the notion that you can conduct a purely counterterrorist kind of campaign, and do it from a distance, simply does not accord with reality."

Growing Doubts
But America's growing doubt that U.S. and coalition troops are making a difference has intensified with the inconclusive results of the recent Afghan election amid allegations of fraud and corruption.
"The war's been going on for a very long time now. And the progress that has been achieved is at best limited, if not nonexistent," says Andrew Bacevich, a retired U.S. Army colonel who now teaches international relations and history at Boston University and recently authored the book "The Limits of Power: The End of American Exceptionalism."
"I think that many Americans are simply weary of a war that seemingly has no end," he added.
Bacevich says Americans, in addition to experiencing a kind of long-distance battle fatigue, are now preoccupied with conditions in the United States, which have changed significantly in the years since former President George W. Bush painted his global war on terror with a sheen of idealism.
The easily accepted narrative then was that the United States was fighting to advance the ideals of freedom and democracy and protect the rights of women and girls.
"I'm not sure that sells any longer," Bacevich said. "Since the collapse of the economy, Americans are much more likely, I think, to ask about this war, 'What's in it for me? What's in it for us?' And it's difficult, I think, to make the case, that this enterprise, and the continuation of this enterprise, is benefiting the American people in any significant way."
Bacevich said the White House has "an enormous" political problem on its hands in terms of rebuilding, and sustaining, public support for the war.
Brown's Battle

It's a problem that 10 Downing Street is also facing.
A political bomb dropped in Britain on September 3, when a former army major, Eric Joyce, resigned from his post as a top aide to the country's defense secretary over the government's strategy in Afghanistan.
With more than 9,000 troops in Afghanistan, Britain is the second-largest foreign presence there after the United States. This week, British troops sustained their 212th fatality since the start of the war.
In a resignation letter that was addressed to Prime Minister Gordon Brown and published in most newspapers, Joyce attacked the government's handling of the conflict and called on Brown to set a 5-year timetable to withdraw. He wrote, "I do not think the public will accept for much longer that our losses can be justified by simply referring to the risk of greater terrorism on our streets."
For Brown, Joyce's timing could not be worse, as it came on the eve of a major speech aimed at trying to revive public support for the U.K. mission in Afghanistan.
In his speech on September 4, Brown said that "a safer Britain requires a safer Afghanistan."
"When the security of our country is at stake we cannot walk away," he said. "We cannot just do nothing and leave the peoples of Pakistan and Afghanistan to struggle with these global problems on their own."