BRUSSELS -- General David Petraeus, the new commander of U.S. and ISAF troops in Afghanistan, has vowed to do "everything humanly possible" to avoid casualties among Afghan civilians.
Petraeus was speaking in Brussels after briefing NATO ambassadors about his plans.
He sought to assuage concerns among NATO allies that the United States will take a tougher approach in operations against insurgents in Afghanistan.
Petraeus acknowledged there were concerns among some troops at the current rules of engagement, which put restrictions on coalition attacks to limit civilian casualties. But he said he had no plans to make it easier for NATO troops to use lethal force and said keeping reducing civilian casualties to an "absolute minimum" would remain a key objective.
"In a counterinsurgency, the human terrain is the decisive terrain," he said, "and therefore you must do everything humanly possible to protect the population and, indeed, again to reduce the loss of innocent civilian life."
Petraeus' visit comes a day after the U.S. Senate confirmed him to replace General Stanley McChrystal, who was fired after he made disparaging comments about the Obama administration in "Rolling Stone" magazine.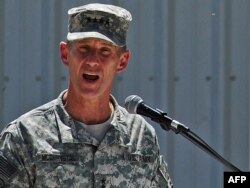 General Stanley McChrystal was relieved of his duties after making disparaging remarks about members of the Obama administration.
Petraeus will take charge of the some 140,000 foreign troops in Afghanistan this weekend. Credited with masterminding the successful counterinsurgency "surge" in Iraq, the four-star U.S. general will oversee President Barack Obama's injection of an additional 30,000 troops into Afghanistan, which will peak this August.
Petraeus appeared intent to smooth the feathers his appointment had ruffled in NATO capitals, which diplomats say were not consulted in advance by Washington.
He indicated the broad counterinsurgency strategy pursued by McChrystal -- geared toward pushing the Taliban out from key areas in the south as well as important urban centers -- will not change.
The U.S. general will also have to contend with the growing unpopularity of the war among allied publics, with the Netherlands scheduled to pull out its troops this year and Canada next year.
Petraeus today said the success of that strategy accounts for the increased numbers of NATO casualties, which are now higher than at any point since 2001 when the United States toppled the former Taliban regime.
"When you take away the enemy's safe havens and sanctuaries -- particularly ones that are as important as, say, those in central Helmand Province, in Marjah now, in Nadi Ali, even Lashkar [Gah] -- when you take away his safe havens," he said, "the enemy fights back."
U.S. and NATO officials have in recent months encouraged political reconciliation between the government of President Hamid Karzai and the more moderate Taliban leaders. However, Taliban leaders are reported to have turned down the offer.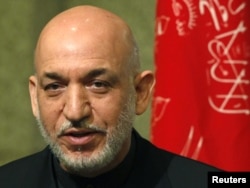 Afghan President Hamid Karzai
Petraeus today defended ISAF's record in Afghanistan since the announcement of Obama's surge, saying the increase in fighting follows a known pattern. He said the Taliban had the momentum until early this year, but NATO is now turning the tables. He noted that casualty levels in Iraq also went up once the surge was under way -- only to come down drastically later.
Asked about his short-term criteria of success, Petraeus said he is looking for the expansion of security in key districts, "not entire provinces," as well as boosting the numbers and training levels of Afghanistan's own troops.
Petraeus also indicated he will take a close interest in the way NATO and Karzai's administration interact with the Afghan population in a bid to cultivate popular support for the ISAF mission. He said NATO would in future show greater "inclusivity" and "transparency" towards the Afghan population, in explaining the decisions taken and the way international aid money is distributed.
Petraeus said NATO is building on an outreach drive launched earlier this year by Karzai himself.
"When [Karzai] did a shura council a month or so ago, there were individuals willing to stand up with the microphone and camera on and criticize the Afghan government and, indeed, the president himself, which [Karzai] did in self-criticism also," Petraeus said. "That's the kind of approach, that's the kind of inclusivity and representation, that is essential to achieve the support from all the people of an area -- and not leave some feeling that they don't have a seat at the table."
Western donors, too, are increasingly concerned about the way their money is being spent in Afghanistan. U.S. lawmakers on June 30 blocked $3.9 billion in aid to Kabul citing concerns over corruption and mismanagement.
Petraeus said earlier this month it will take "a number of years" before the Afghan Army and police are able to take over responsibility for the security of the country.