Reza Deghati has spent the last three decades capturing images of despair, hope, and the lives of ordinary people in war-torn areas around the world. And the photojournalist, known internationally simply as "Reza," has the Iranian Revolution -- whose 30th anniversary is being marked in the run-up to February 10 -- to thank for helping steer him toward an award-winning career.
As the revolution began to unfold in 1979, the 27-year-old architect was prompted to grab his camera, and from then on he never looked back. Reza, today the head of the "Aina" media center in Kabul, shares his memories in an interview with RFE/RL correspondent Golnaz Esfandiari.
RFE/RL: You were working as an architect in Tehran in 1979, how did you end up covering the Iranian Revolution?Reza Deghati:
I started taking pictures when I was 14 years old, and photography has always been my passion. When the demonstrations began in Tehran, I decided that it was better for me to put aside architecture for some time, take pictures for a few days, and see what happens. Those three, four days have turned into 30 years -- it's been 30 years that I've been doing photography.
RFE/RL: Did you also take part in the demonstrations that led to the revolution?Deghati:
As soon as I took the camera in my hands, for me the most important thing became to take pictures. Photography, for me, was and is more important and more powerful than anything else. In the worst conditions -- of demonstrations, war, and everywhere I've been -- I have tried to take photos and I've always felt that photography was the most important work I could be doing. Because of this, whenever I took to the streets, I took my camera with me. When you have a camera in your hands instead of a clenched fist, one just takes pictures.
At that time we thought the freedom and democracy people of Iran wanted would be achieved within six months to a year. [Yet ] people still say they haven't reached it.

RFE/RL: How was the atmosphere, the mood among people?Deghati:
Those were very special days in Iran's history, in different nations' histories there are very rare moments when people feel that fundamental changes are coming and they think these changes will be to their benefit. Because of this there is a lot of joy among many people. At the same time, it's natural that those with ties to the [shah's regime] were worried. There was a mix of joy and worry and people were on this side or the other.
There were also those who had mixed feelings: joy and cheerfulness mixed with a degree of concern -- like me. We wanted a free country, where people could express their ideas freely -- that was one of main aims because there was no [freedom of expression ] under the shah. Many including myself -- I was a 27-year-old student -- we thought that there would [definitely] be freedom of expression. Unfortunately, the nature of the Islamic establishment is not very much in harmony with freedom of expression and thought.
RFE/RL: What is your most vivid memory of those historical days?Deghati:
One of them is the moment when [then-Iranian television anchorman] Mirali Hosseini appeared on television and said that the regime had collapsed. It was one of those important moments. Change was needed in Iran. One realized later that the fundamental change many people wanted would take time. At that time we thought the freedom and democracy people of Iran wanted would be achieved within six months to a year. [Yet ] people still say they haven't reached it.
RFE/RL: Now let's talk about some of the photos you took at that time -- is there one that gives a good sense of the mood of those days? Deghati:
Shahyad Square -- which later became Azadi Square. There was a very important, huge demonstration -- 1 million people were there. I have a photo from that demonstration, it shows the crowd and when one looks at people's faces, they all seem happy, cheerful, thinking that everything [will] be good. In their cafes one can see that they were thinking positive changes would come. A year later, on the anniversary of the revolution, they had a ceremony at that square. Ahmad Khomeini [the son of Ayatollah Khomeini] and Abolhassan Bani Sadr [the first president of Iran following the 1979 revolution, currently living in exile in France] were there and Yasser Arafat was visiting. They were on a podium in the center.
There were people everywhere and it was raining. Some had revolvers, some were carrying automatic weapons. They were pushing each other. There was so much pressure [from the crowd ] that several people were trampled -- I don't know if they were injured or just fainted.
I have a picture that shows the state of the people in comparison to a year before where at the same place everyone was happy and laughing and they were all looking at the same direction. The other picture looks like it is the end of the world -- none of the people are looking at the same direction, they're either pushing each other or quarreling with each other. It's very strange. I had these two pictures in an exhibition like a story without any comment and had just put the dates there. All those at the exhibition understood what calamity the revolution brought upon the Iranian people.
RFE/RL: You took a picture of the founder of the Islamic republic, Ayatollah Ruhollah Khomeini. He's sitting on a bed and looking at the camera. Can you describe for us the circumstances of that shot?
It was on [Referendum Day, in April 1979], and I was among a group of photographers that had permission to take pictures of the voting. There I managed to get into a room where some were sitting. All of a sudden I saw that [Khomeini] was sitting on a bed in a small room. I greeted him and said I would like to take a picture, and he said, "Take it." Then I took two black-and-white and one color photo. Then he looked at me and said, "I'm tired." I said, "I was taking pictures and doing the work, and you became tired?" He looked at me in a way that meant, "Go now." This picture is among the pictures published in my book "Reza War + Peace."
RFE/RL: You said you had mixed feelings in 1979 -- that you were happy but also a bit concerned about what was to come. Thirty years have passed. How do you feel now about the revolution that shook Iran?
Deghati:
When I think that it has been 30 years that Iranian people have lived in a place that is similar to a prison, and of the psychological, economic, and social pressure the majority of Iranians are facing, then naturally one can't have a good feeling.
Iran's Revolution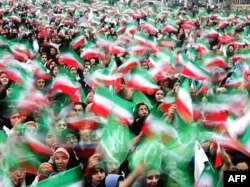 Iran's Revolution
As Iran celebrates the 30th anniversary of its Islamic Revolution, RFE/RL looks at the legacy of the revolution and its effect on Iran and the world. More
Images Of The Iranian Revolution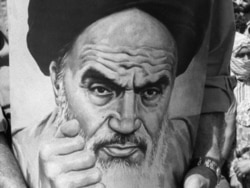 Images Of Revolution
An audio slide show of Reza Deghati's iconic photos of the Iranian Revolution and the hostage crisis that followed. Play