Russia is due to send in air-crash experts to help examine the flight data recorders for clues as to why the jet, bound for Iran, crashed late on August 24 soon after takeoff.
Kyrgyz Prime Minister Igor Chudinov said the Boeing 737 of Itek-Air aircraft went down a short distance from Bishkek's Manas airport after apparently suffering a loss of cabin pressure after taking off for Tehran.
Part of Manas is used by the U.S. military as a base to supply the international force fighting Taliban insurgents in Afghanistan.
A Kyrgyz presidential adviser, Tokon Mamytov, said there was no evidence of a terrorist attack against the plane.
"If we rely upon the latest preliminary information, then 25 people have been saved, they are alive," Kamchybek Tashiev, Kyrgyzstan's minister for emergency situations, told RFE/RL's Kyrgyz Service. "We have information that 65 people were dead, because there were 90 people aboard."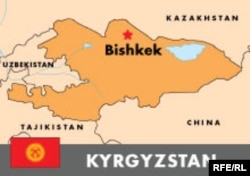 Some of the survivors are in the hospital in critical condition. The survivors include at least eight Iranians and 14 Kyrgyz nationals.
On board were 52 Iranian citizens, 24 Kyrgyz, three Kazakh, two Canadians, one Turkish, and 1 Chinese.
Among the Kyrgyz passengers were 17 representatives of a youth volleyball team from Bishkek and two deputies of the Bishkek City Council.
Emergency Situations Ministry spokesman Ramis Satybekov said the crash was likely caused either by an engine failure or a malfunction in the plane's flight control system.
Itek-Air has been banned from operating in the airspace of the European Union because of failure to meet safety and aviation standards, according to a list published by the EU on July 24.
Flags will fly at half-staff on public buildings on August 26 and shows, theaters, and cinemas will close for the day as a mark of respect for the dead.
with agency reports