YEREVAN (RFE/RL) -- Reports from Iran say two black-box flight recorders have been recovered from a Tupolev aircraft that crashed in Iran on July 15, killing 168 people.
The Russian-made passenger jet, traveling from Tehran to Yerevan, crashed shortly after takeoff from Tehran's Imam Khomeini Airport, killing all 153 passengers and 15 crew members.
Iran's state Press TV quoted an official as saying the boxes were heavily damaged in the crash but that experts were trying to retrieve vital data from them that would help determine what caused the crash.
Meanwhile, the United States, which does not have diplomatic ties with Tehran, has extended its condolences to the families of those killed.
Washington has no diplomatic ties with Iran but the administration of President Barack Obama has made efforts to reach out to the regime in Tehran.
Witnesses to the crash alternately reported seeing one of the plane's engines and the tail in flames shortly before the crash.
The plane hit the ground outside the Iranian city of Qazvin, bursting into flames and scattering metal fragments and body parts across neighboring fields.
The crash has renewed concerns about aviation safety in Iran, where Western sanctions have limited the country's access to replacement parts for the country's aging fleet.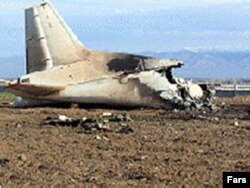 The burnt fuselage of the plane
There have been more than 10 fatal air crashes in Iran since 2000. The Caspian Airline carrier that went down in this incident, a Russian-made Tupolev-154, was built in the mid-1980s.
The majority of the flight's passengers were Iranian. Two Georgian citizens and six Armenian citizens were also on the flight; dozens more were ethnic Armenians living in Iran.
Safety Concerns
In Yerevan's Zvartnots Airport, distraught friends and family members waited for a passenger list to be posted for the fatal crash.
One man told RFE/RL's Armenian Service that Iranian flights are considered notoriously unsafe.
"If we look over a period of a year, we'll see how many planes crashed in Iran. It is simply surprising that we don't sober up, seeing all this," the man said.
"Anyone who once traveled to Iran by air knows that it is horrible to fly on board the old Russian Tupolev planes that the Iranians had leased. There is always a chance this plane will crash. This is a fact. Personally, I am not surprised that this plane crashed."
This latest crash was the first fatal accident for Caspian Airlines, a Russian-Iranian venture founded in 1992 that operates a fleet of six Tupolev-154s.
Video of the crash site taken from Iran's state Press TV.
Aleksei Komarov, editor of the Russian monthly "Air Transport Review," said because a plane may be older doesn't necessarily mean it is unsafe. He called the Tupolev-154 a "workhorse."
"The important question when you talk about the reliability of the technology is how it's kept in flying condition: who maintains it, who uses the plane, and who keeps track of its condition," Komarov told RFE/RL's Russian Service.
Caspian Airlines representative Arlen Davudian told RFE/RL's Armenian Service that the plane in the July 15 crash had passed the required technical inspection that planes must pass every 300 hours.
Massud Mohajer a Tehran-based journalist, told RFE/RL's Radio Farda that the plane's age had nothing to do with it.
"I think that there isn't a very close link between the fact that the planes are old and the number of crashes, because planes need to be in good shape in order to receive permission to make international flights," Mohajer said.
Iranian officials in the past have complained that Western sanctions make it impossible for its aviation industry to purchase replacement parts for its fleet. This limitation would not affect the Caspian Airlines planes, however, because of their access to Russian spare parts.
Armenian President Serzh Sarkisian cut short a working trip to return to Yerevan. He later announced a day of mourning for July 16.
Iranian President Mahmud Ahmadinejad has reportedly asked his Roads and Transportation Ministry to investigate the disaster.
Gocha Gvaramadze, charge d'affaires at the Georgian Embassy in Yerevan, told RFE/RL's Georgian Service that Givi Chkadua, the 42-year-old financial manager for the country's embassies in Armenia and Iran, was one of the two Georgian crash victims.
"Our financial manager was temporarily covering Iran as well. And he had just completed his last two-week assignment there, since a new financial manager has already been appointed for Iran," Gvaramadze said.
RFE/RL's Armenian, Georgian, and Russian services, and Radio Farda, all contributed to this report