Poles today are voting to choose a successor to President Lech Kaczynski, whose death in a plane crash in western Russia two months ago along with 95 other people -- including much of Poland's political and military elite -- shocked the world.
The outcome of today's ballot is expected to shape Warsaw's stance on issues such as the adoption of the euro, welfare reform, and Poland's mission in Afghanistan. The election also is expected to impact how Poland fares amid Europe's new debt crisis.
The front-runner of the 10 candidates, Bronislaw Komorowski, is a pro-European Union, moderate member of the governing Civic Platform party. He has pledged to work closely with the government of Prime Minister Donald Tusk to adopt the euro in about five years, end the unpopular military mission in Afghanistan, and promote pro-market reforms.
Opinion polls show that Kaczynki's surviving twin brother, Jaroslaw Kaczynski, faces an uphill battle in his bid to defeat Komorowski -- despite a recent surge in sympathy for him.
Acting President Bronislaw Komorowski
Jaroslaw Kaczynski is a social conservative whose main goals are to fight crime and corruption, to scale back market reforms in order to preserve a strong welfare state, and to promote Roman Catholic values in public life. He has been more skeptical than Komorowski about the European Union and adoption of the euro, saying it is too early to set a timetable for giving up the Polish currency, the zloty.
Moderate Tone
Kaczynski, a former prime minister, is known for his nationalism and his combative nature. But he has struck a more moderate tone since his brother's death. Many Poles say they are unsure of whether that change is permanent or merely a strategy to win over centrist voters.
Jadwiga Ciach, a pensioner who lives in Warsaw, told Reuters after casting her ballot today that what is most important to her is to have effective leadership in the presidency, saying, "It is my duty [to vote] and, moreover, I would like to be better governed by a newly elected power."
Another pensioner who lives in Warsaw, Tadeusz Jaron, said he is thinking about the long-term ramifications of today's vote.
"Now, at my age the expectations are not so high," Jaron said. "I just want things to be better for my children and grandchildren and for things to be governed better."
Blocking Reforms
In Poland, the government sets policy but the president can veto laws and appoint many key officials. He also has a say in foreign and security policy. Lech Kaczynski irked Prime Minister Donald Tusk's economically liberal government by blocking some reforms.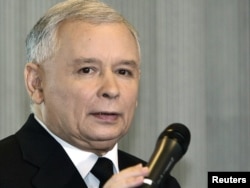 Jaroslaw Kaczynski
Tusk believes Jaroslaw Kaczynski as president would continue his brother's habit of vetoing government bills and also of thwarting efforts to prepare Poland for euro entry. The presidential palace could also become campaign headquarters for Kaczynski's right-wing Law and Justice Party (PiS) ahead of next year's crucial parliamentary elections.
When Jaroslaw Kaczynski served as prime minister during 2006 and 2007, his nationalist views -- particularly his deep suspicions of Germany and Russia -- strained Poland's relations with its neighbors and with the EU.
On the other hand, Komorowski shares Tusk's ambition to bring Poland into the European political mainstream -- a goal that includes adopting the euro as soon as is economically feasible.
Exit Polls
Komorowski, as the speaker of parliament, became Poland's acting president upon Lech Kaczynski's death.
More than 30 million of Poland's 38 million citizens are registered to vote in nearly 26,000 polling stations across the country today. Voting began at 0600 (local and Prague time) and is scheduled to continue until 2000.
The first exit polls are to be released when the polls close. Official results are expected to come in later in the evening.
One opinion poll published on June 18 by the "Rzeczpospolita" daily newspaper showed Komorowski had the support of 42 percent of those surveyed, compared to Kaczynski's 31 percent.
If no candidate reaches 50 percent of the vote outright in the first round, the two top contenders will compete in a runoff scheduled for July 4.

compiled from agency reports