No clear winner has emerged from Poland's presidential election, held to choose a successor to Lech Kaczynski, who was killed along with much of the country's political and military elite when their plane crashed in western Russia on April 10.
With almost all results in, the interim president and parliament speaker, Bronislaw Komorowski, is leading Lech's identical twin, Jaroslaw Kaczynski. But Komorowski has fallen short of the 50 percent of the vote needed for outright victory.
A runoff will now take place in two weeks between the two leading candidates, prolonging the atmosphere of tragedy that has ruled in Poland since the crash.
Komorowski, a center-right free-market liberal, thanked supporters in Warsaw on June 20, but he called for them to mobilize all their forces to win the coming runoff.
"I would like to thank all those who have supported me by [voting for me], by working at my campaign, by a simple handshake, by a smile or a look," he said. "I thank everyone, and I ask for more."
Komorowski is a member of the pro-European Union, moderate Civic Platform party, which governs Poland under Prime Minister Donald Tusk. If he wins, Civic Platform would control both the presidency and the government, presumably ending the conflict between the two entities, which characterized Lech Kaczynski's presidency.
The office of Polish president is not merely ceremonial. It holds a power of veto over government legislation, and the ultra-conservative Lech Kaczynski used that power on several occasions.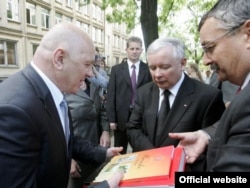 Jaroslaw Kaczynski (center) on election day
Komorowski has pledged to work closely with the government if he is elected. The party stands for free-market reforms, including privatization of state-owned enterprises, plus adoption of the common currency the euro, and bringing Polish troops home from Afghanistan.
"He is for stability, predictability, consolidation, but there are no fireworks in his campaign," says Pawel Swieboda, the president of the Polish think tank Demos Europa. "And that probably -- at the end of the day -- was reflected in Sunday's election."
Outspoken Polish Nationalist
By contrast, Jaroslaw Kaczynski made his reputation in politics as an outspoken Polish nationalist who did not conceal his admiration for the Catholic Church, nor his abiding suspicion of powerful neighbors Russia and Germany. Added to that is his dislike of the European Union.
His term as prime minister in 2006 and 2007 was characterized by irritated relations with Berlin, Moscow, and Brussels.
Although he has portrayed himself in a more moderate light during campaigning to appeal to centrist voters, some analysts question whether he has really changed his spots.
"Jaroslaw Kacdzynski wasn't himself in the first round," Swieboda says. "He tried to reinvent himself as a moderate politician. I think his mask will fall off now, and we will see a much closer struggle of these two front-runners in the second round."
Speaking to supporters on June 20, after it became clear there would be a runoff with Komorowski, Kaczynski emphasized what he called the "huge" differences between his "vision" and that of his rival.
"In this second round, there will be a choice between the two visions of Poland," Kaczynski said, "because there are indeed differences, although you might have heard differently from Mr. Komorowski, whom I congratulate on the splendid result. But there are differences between him and me. Huge differences."
The outcome of the coming runoff vote on July 4 may depend on which candidate can gain the support of those Poles who voted in the first round for Democratic Left Alliance candidate Grzegorz Napieralski. This representative of what is the reshaped Communist Party garnered almost 14 percent of the votes.
The moderate Komorowski would seem to be the more likely person to attract those votes during the second round.
written by Breffni O'Rourke, with agency reports