MOSCOW -- Protesters rallied in several Russian cities and abroad to demonstrate for the right to gather freely in the streets and to demand the Russian government grant its citizens their constitutional rights, RFE/RL's Russian Service reports.
Opposition and rights activists in Russia try to hold protests in each month that includes 31 days to call attention to Article 31 of Russia's Constitution, which guarantees freedom of assembly.
Some 400 opposition supporters gathered at an unsanctioned rally in Moscow on August 31. Police arrested 70 people, including opposition leaders Boris Nemtsov, Ilya Yashin, Eduard Limonov, and Sergei Udaltsov.
Around 200 police from Russia's special forces, in full riot gear, lined Moscow's Triumph Square, where the protest was scheduled to take place.
WATCH: Hundreds of police officers surround protesters of all ages and disperse the unsanctioned rally:
Protesters held giant cardboard "31" signs and screamed slogans like, "Russia Without Putin!" "This Is Our City!" and "Down With The KGB."
Though many protesters were arrested, observers say Russian police behaved relatively calmly.
Four EU lawmakers visiting Russia earlier attended an opposition rally in central Moscow and criticized police for arresting its organizers.
Heidi Hautala, who heads the EU parliament's subcommittee on human rights, called the arrest of Nemtsov, a former Russian prime minister, "a violation."
In St. Petersburg, around 800 people gathered in the center of the city, more than had gathered during the July protest at which some protesters were severely beaten by police.
In the small city of Barnaul in western Siberia, protesters shouted the slogan "I Choose Freedom!" and demanded the government better regulate companies providing housing and community services.
Authorities routinely deny permission for the demonstrations -- permission the activists say they do not need -- and police break up the protests before they can begin, often by dragging protesters away.
Protesters -- mainly Russian expatriates -- also gathered in New York, London, and Washington, D.C., in solidarity.
with agency reports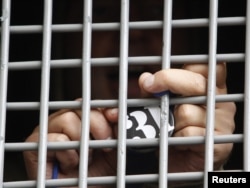 An opposition supporter shows a badge, displaying the number 31, through the bars of a police bus after being detained during a protest rally in Moscow.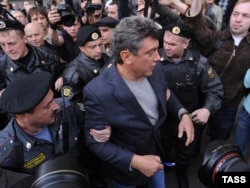 Opposition leader Boris Nemtsov was among those detained in Moscow.
Police detain a protester in Moscow.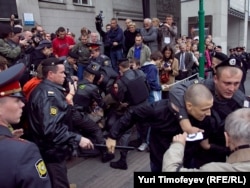 Police forcibly lead one protester away from the rally site in Moscow.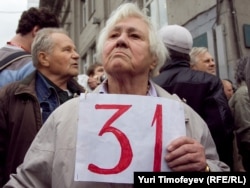 The protesters gather on the last day of months with 31 days to make their point about Russia's constitutional freedom of assembly.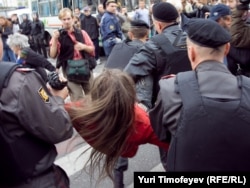 Some 60 people were detained in Moscow alone.
Detained opposition supporters continue their protest on a police bus near the rally site in Moscow.