Police Officer Charged In Russian Journalist Death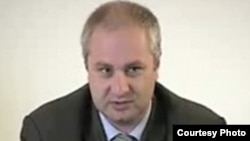 According to Russian investigators, a police officer has been charged with accidentally shooting a journalist held in custody in the southern province of Ingushetia.
Magomed Yevloyev
, who ran a website that reported on rights in Ingushetia, was killed on August 31.
The Investigative Committee under the Prosecutor-General's Office said in a statement on October 24 that the officer is accused of accidentally pulling the trigger.
About This Blog
"Watchdog" is a blog with a singular mission -- to monitor the latest developments concerning human rights, civil society, and press freedom. We'll pay particular attention to reports concerning countries in RFE/RL's broadcast region.
Journalists In Trouble
RFE/RL journalists take risks, face threats, and make sacrifices every day in an effort to gather the news. Our "Journalists In Trouble" page recognizes their courage and conviction, and documents the high price that many have paid simply for doing their jobs. More