MOSCOW -- One of Russia's most-popular singers, Valentina Tolkunova, has died of cancer in Moscow's Botkin Clinic, RFE/RL's Russian Service reports.
Tolkunova, 63, was hospitalized on February 16 after she felt ill during a concert tour in Belarus. She had been treated for previous years for cancer and was operated on in 2009.
Born in 1946 in the city of Armavir, Krasnodar Krai, Tolkunova started her singing career in Yury Saulsky's jazz band VIO-66 in 1966.
Tolkunova gained some notoriety in the Soviet Union after her performance in the 1971 movie "Day After Day," in which she sang several popular songs.
A performance in 1972 at Moscow's Kolonny Concert Hall -- where she sang several songs by Soviet composer Vladimir Shainsky -- is considered the performance that catapulted her career.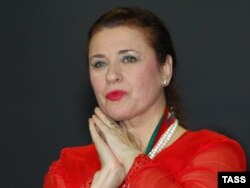 Valentina Tolkunova in 2010
After the concert, dozens of her songs became quite popular among Soviets, among them "Silver Weddings," "Talk to Me, Mama," "I Can't Do Otherwise," "The Old Words," "I Stay at the Railway Station."
Tolkunova released about 20 records and won the USSR's "Song of the Year" television competition 23 times. She has received numerous awards in the Russian Federation, including those from the Russian republics of Kalmykia and Kabardino-Balkaria. She also was given awards in Ukraine, Kazakhstan, Turkmenistan, and Estonia.