Afghanistan's presidential elections last month were expected to deliver a credible administration that would contribute to stabilizing the country.
Instead, the exercise threatens to turn into a crisis with potentially troubling consequences for Afghanistan, NATO, and the region as a whole.
With over 90 percent of the ballots tallied, that country's Independent Election Commission says incumbent President Hamid Karzai has received 54 percent of the vote -- exceeding the 50 percent he needs for outright reelection. The commission says his top challenger, Abdullah Abdullah, is a distant second with 28 percent.
But growing allegations of fraud now cloud the picture.
The United Nations-backed Electoral Complaints Commission says it is probing 762 allegations of serious fraud. Already, investigations by the UN commission have led the Afghan-run Independent Election Commission to annul results from 447 of 28,000 polling stations.
The UN commission's Canadian chairman, Grant Kippen, is upbeat but says it will take weeks before the process is complete.
"We are working very hard to get this done as quickly as possible," the UN commission's Canadian chairman, Grant Kippen, says. "I expect over the coming weeks that we will be dealing -- as the investigations pick up -- we will be dealing with these decisions much more rapidly. So I am optimistic."
But many observers believe the short-term prospects for Afghanistan are less rosy.
'Imposed Rulers'?
The Afghan election was expected to deliver a new administration that would work with its international partners to deliver improved governance and play its role in defeating the Taliban insurgency.
President Hamid Karzai has led the country since a UN-backed deal in late 2001.
Instead, the Afghan political elite is splitting into increasingly hostile camps, raising questions in Western capitals about what happens next.
"Overall, whatever side wins in this contest, the Afghan public is the loser because they couldn't choose their real representative in this presidential election," says parliamentarian Kabir Ranjbar, who supported former Finance Minister Ashraf Ghani in the presidential ballot. "The international community is to be blamed for this because during the past seven years they empowered rapacious warlords and imposed them as rulers on the Afghan people."
Ranjbar also blames both Karzai and Abdullah for helping establish what he calls a "warlord-dominated political system."
In the run-up to the election, Karzai mustered a formidable alliance of powerful warlords and regional strongmen on his side. Following the vote, as allegations of fraud have grown, Karzai's camp has increasingly used anti-Western nationalist rhetoric to rally its supporters.
Trading Barbs
Pro-Karzai analysts appearing on late-night Afghan state television now routinely condemn foreign interference in Afghanistan's elections. They often highlight critical reporting in U.S. and British media, citing them as evidence of foreign bias.
For his part, Ranjbar doesn't see much difference in the camp of Karzai's top challenger, Abdullah Abdullah, or among his supporters. They form a disparate alliance of Islamist ideologues, former mujahedin commanders, and Communist-era officials. There are plenty of fraud allegations being leveled against their camp as well.
The two sides now accuse each other of fraud and irregularities, and the recriminations have developed ethnic undertones as hawks from both sides portray themselves as protectors -- of Pashtuns in Karzai's case, and of Tajiks in Abdullah's case.
Both sides include leaders from virtually all ethnicities and linguistic groups, but there are concerns that damage is being done.
Foreign Angst
While the domestic crisis brews, international unease over the situation in Afghanistan is growing. Domestic political pressures and concerns over the direction of the international stabilization effort in Afghanistan have forced British, German, and French leaders to call for a strategic rethink on Afghanistan.
With support for the Afghan war declining among the U.S. public, President Barack Obama's administration faces a delicate balancing act.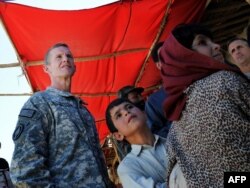 ISAF commander U.S. General Stanley McChrystal
Analysts suggest that a new strategic review by the top U.S. and NATO military commander in the country, General Stanley McChrystal, could pave the way for committing more troops to the country.
Ranjbar says resolving Afghanistan's complex security problems can only begin if Afghans have confidence in their own government.
"If a government lacks popular backing, all the militaries in the world cannot bring peace and stability to that country," Ranjbar says. "Of course it is impossible to place a tank on each doorstep. Therefore, I reiterate that the best solution is reforming the administration."
How to do that in the current stalemate is unclear.
Another outspoken Afghan parliamentarian, Shukaria Barakzai, urges patience and caution.
Barakzai tells RFE/RL that the political crisis in Afghanistan won't be resolved until a credible government and a genuine peaceful opposition emerge from the process.
And this, she says, will require robust political parties who are different from their ideological and militarized prototypes of the recent past.
RFE/RL's Radio Free Afghanistan Correspondent Salih Muhammad Salih contributed reporting