TEHRAN (Reuters) -- The prominent Iranian disabled reformer
Saeed Hajjarian
will be released after being held since the disputed presidential election, Iranian media have reported, quoting a judiciary spokesman.
"Political activist Hajjarian, who was arrested in postelection unrest, will be released today...his release takes place based on recent orders by the judiciary chief," the Islamic Students News Agency (ISNA) quoted the spokesman as saying.
Iran's top judge, Ayatollah Mahmud Hashemi-Shahrudi, ordered the judiciary on July 27 to reexamine the cases of moderate detainees in a week.
Hajjarian's lawyer told ISNA he had not been released yet.
Hajjarian is an ally of moderate presidential candidate Mir Hossein Musavi, who has formally appealed against the result of the June 12 election, which defeated moderates say was rigged in favor of hard-line President Mahmud Ahmadinejad..
Iran's supreme leader, Ayatollah Ali Khamenei, has endorsed Ahmadinejad's reelection.
The vote plunged Iran into its biggest internal crisis since the 1979 Islamic Revolution and exposed deepening divisions in its ruling elite.
Iran Election Diary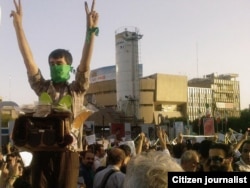 Disputed Presidential Vote
There have been protests and clashes with police on the streets of Tehran following the disputed reelection of Mahmud Ahmadinejad. RFE/RL collects videos, photos, and messages on social-networking sites coming out of Iran to attempt to get a picture of what is happening inside the country.
Click here