A prominent journalist and political analyst for the independent Kyrgyz weekly "Reporter-Bishkek" is in hospital after surviving a vicious assault in the capital, Bishkek.
On the evening of March 3, unknown assailants accosted Syrgak Abdyldaev outside his newsroom in Bishkek and stabbed him more than 20 times.
Abdyldaev also suffered a concussion and broken arms in the assault.
He is reported to be in serious condition.
Abdyldaev's belongings, including his wallet and cell phone, were not taken in the incident.
"Reporter-Bishkek" editor in chief, Turat Akimov, says Abdyldaev had received threatening phone calls and said a car had been following him on the day he was attacked,.
Akimov tells RFE/RL's Kyrgyz Service that he believes the attack could be a warning to both the newspaper and to Abdyldaev over the newspaper's critical political coverage.
The Committee to Protect Journalists (CPJ)
condemned the attack
and called for a thorough investigation.
"Kyrgyzstan must not allow impunity in attacks on reporters to chill the media," said Nina Ognianova, the CPJ's Europe and Central Asia program coordinator.
The chairman of the Kyrgyz Journalists' Union, Abdykadyr Sultanbaev, tells RFE/RL that the union is demanding that the government and President Kurmanbek Bakiev work to ensure that the crime is solved.
In a statement, Bakiev's office said it is "concerned and saddened" by the attack and called for a speedy investigation.
Kyrgyzstan's Green Party issued a statement harshly criticizing Bakiev and the government for "creating a situation in the country when nobody can be sure about his or her safety."
Kyrgyz investigative journalist
Alisher Saipov
was killed by unknown gunmen in Osh in October 2007.
His murder remains unsolved.
with Reuters
Journalists In Trouble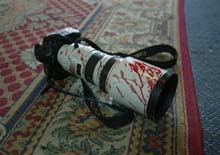 RFE/RL journalists take risks, face threats, and make sacrifices every day in an effort to gather the news. Our new "Journalists In Trouble" web page recognizes their courage and conviction, and documents the high price that many have paid simply for doing their jobs. More