OSH, Kyrgyzstan -- Officials in the southern Kyrgyz city of Osh say they refused permission for a protest march because of worries about the spread of swine flu, RFE/RL's Kyrgyz Service reports.
Osh activist leader Abdykaim Kangeldiev told RFE/RL that march organizers wanted to protest the government's decision to begin increasing utility fees as of January 1.
The Kyrgyz government announced earlier this month a plan -- to be implemented from 2010-2012 -- under which electricity prices will double and natural gas charges for heating will go up by some 500 percent.
The protest march was to be held this week.
There have officially been about 80 cases of swine flu in Kyrgyzstan but no reported deaths.
Swine Flu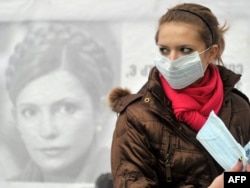 H1N1 Virus
As the fall flu season hits, fears of a swine-flu pandemic have grown in Eastern Europe after Ukraine saw a massive outbreak.
Click here
for RFE/RL's coverage of the virus's spread.