Thai Prime Minister Abhisit Vejjajiva says he is attempting to quell the violence in the capital Bangkok with minimum bloodshed.
Thai emergency services say at least eight people were killed and more than 50 injured in violence on May 15.
At least 24 people have been killed and more than 200 wounded in clashes since May 13, when the antigovernment protesters' de facto military chief was critically wounded.
Abhisit's remarks on national television came after the Thai Army designated an area of central Bangkok a "live firing zone" as clashes continue with protesters who have barricaded the district.
The government had said it would put "pressure" on parts of the "red shirt" demonstrators' sprawling encampment in an upscale neighborhood of department stores, luxury hotels, and apartment buildings.
Thousands of protesters have been occupying the area for more than two months and say they'll remain there until the government resigns.
The authorities have ruled out negotiations and are restricting electricity and supplies of food and water to the demonstrators. The government says the situation is now under control, but explosions and sporadic gunfire can still be heard around the protest site.
United Nations Secretary-General Ban Ki-moon has urged both sides to avoid further violence.
His spokesman said in a statement that he "strongly encourages them to urgently return to dialogue in order to de-escalate the situation and resolve matters peacefully."
Washington has also urged the government and protesters to "find a way to work peacefully through these differences."
'Safe If Media Here'
Troops at the protest site have used tear gas, rubber bullets, and live ammunition against the protesters, who threw Molotov cocktails and rocks. They've also set cars on fire and rolled burning tires at soldiers.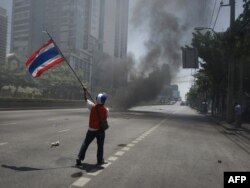 An antigovernement protester waves a national flag during clashes in Bangkok on May 14.
The authorities say soldiers have fired only in self-defense.
A Canadian journalist was shot and injured, one of three journalists wounded in the fighting.
Antigovernment protest leader Jatuporn Prompan told supporters they would remain safe as long as journalists are allowed to report on the standoff.
"I have been talking to my friends, if the media is still here we will be safe," he said. "But if the media leaves, I don't know what will happen to us."
No End In Sight
Many of the protesters are rural poor supporters of exiled former Prime Minister Thaksin Shinawatra, whom the government accuses of corruption. The billionaire was ousted in a military coup in 2006.
The demonstrators say the authorities illegally ousted a subsequent pro-Thaksin government, and are calling on Prime Minister Abhisit Vejjajiva to dissolve parliament and call new elections.
Oxford-educated Abhisit represents an urban royalist elite. He's offered to hold elections in November, but failed to reach an agreement with the protesters over differences about who should take responsibility for a deadly crackdown against the protesters in April.
The standoff has killed a total of at least 42 people and wounded more than 1,400. Thailand's worst political unrest in almost 20 years, it's paralyzed parts of Bangkok and hurt an economy highly dependent on tourism.
On Bangkok's streets today, troops surrounding the main protest site are checking identification cards in an attempt to stop more demonstrators from joining the protests.
The government said on May 14 it would restore order "in the next few days." But with protesters showing no signs of leaving, the violence appears set to continue and casualties are expected rise.
compiled from agency reports