Workers from around Europe have held rallies and strikes to protest the tight austerity programs being implemented by governments in many European Union countries.
Labor unions fear workers will become the biggest victims of the economic crisis set off by bankers and financial traders -- many of whom had to be rescued by massive government bailouts.
Brussels, Spain, and Greece are all affected.
A march in Brussels was attended by tens of thousands of people, making it the biggest protest on the streets of the Belgian capital for years.
Organizers said the protest march to the seat of the European institutions drew workers from some 30 countries.
It comes as many European Union member states press ahead with plans for belt-tightening measures that will mostly result in slashed pensions, deep cuts in other social programs, and lower pay for public servants.
Labor unions fear workers are becoming the biggest victims of the economic crisis set off by bankers and financial traders -- many of whom had to be rescued by massive government bailouts. Deeply indebted governments are now trying to stabilize their situations through stringent cuts in public spending.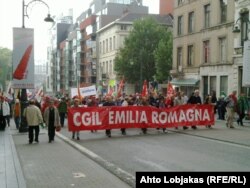 Demonstrators take part in the "No to austerity" in Brussels on September 29.
The head of the European Trades Union Confederation, John Monks, described it as a "crucial" day for Europe. He said almost all EU members are embarking on programs of deep public expenditure cuts, which he predicted will drive fragile economies back into recession once their full impact is felt.
The protest march also coincides with the European Commission's efforts to draw up rules to punish those member states which run high budget deficits in future. Commission President Jose Manuel Barroso in a speech on September 28 acknowledged the danger that too-sudden implementation of cutbacks could cause the current economic revival to stall.
"I hope people realize that the voice of workers is saying, 'Don't go for austerity. Don't do what your predecessors did in the 1930s. Don't cut all of you at the same time and risk the results that they had in the 1930s which was a great depression,'" Monks said.
"We are determined to deliver this reform, but we too have a duty to act responsibly," Barroso said. "In particular, we need to ensure appropriate phasing-in of some of our reforms, to avoid choking off recovery."
RFE/RL's correspondent in Brussels, Ahto Lobjakas, said the march took place peacefully. He said the event appeared to have been attended mainly by mainstream elements of society, rather than by a radical fringe, with even the soldiers' union participating.
In Spain, labor unions called out the nation's workers on a 24-hour general strike. The stoppage got off to an early start, with picketers throwing eggs at bus drivers at a Madrid depot who did not join the strike. Strikers also blocked trucks from delivering produce to wholesale markets in Madrid, Barcelona, and other Spanish cities.
Long-distance train services were also heavily cut. AFP reported that in Madrid, frustrated commuters walked to work or waited at bus stops or at metro stations, garbage was left uncollected, and thousands of union leaflets urging workers to stay at home littered the streets. Newspaper kiosks were devoid of papers.
Spanish National Radio had reported 11 people injured nationwide in various scuffles with police or between workers.
Socialist Prime Minister Jose Luis Rodriguez Zapatero told parliament that he respected the workers' right to strike.
"It is known that I don't want [this strike] but that I respect it and that the government is working today to grant the right to work and the right to strike," Zapatero said. "I'm certainly convinced that unions and employers have an obligation to contribute to the dialogue."
Trade unions said more than half the workforce walked off their jobs. But the government said less than 10 percent of public administration workers and 20 percent of Madrid transportation workers were on strike.
Overall, only a minority of Spanish workers were expected to participate in the stoppage, which was the first general strike in Spain for eight years. The expected lukewarm response was because the socialist government's labor reforms and belt-tightening measures are widely seen as inevitable.
Spain has been a major focus of concern among international investors afraid that its deep indebtedness would cause it to default on its debts, or need a bailout, like Greece.
Greece was also hit by fresh labor unrest. Public transport workers were scheduled to stage a series of work stoppages, while hospital doctors were set for a one-day strike, and unions are planning demonstrations in Athens in the evening.
In Dublin, a 41-year-old man was arrested after ramming a cement truck through the gates of the Irish parliament in protest of an expensive bank bailout.
The incident occurred as protesters nearby demonstrated against proposed austerity measures.
compiled from agency reports