Czech artist David Cerny knows how to shock. Acclaimed as l'artist provocateur, he rose to notoriety in the early 1990s after painting a Soviet tank, which served as a Prague war memorial, pink.
Today his artwork reigns in the Czech capital. A sculpture depicting Czech patron St. Wenceslas riding an inverted, dead horse. Giant babies crawling up the city's landmark communist-era television tower.
Last year, his installation "Entropa," which was intended to promote European unity, infuriated EU officials and triggered a diplomatic storm. Catholic Poland was presented as a potato field with priests raising a gay flag; Germany was a network of motorways resembling a swastika; and Slovakia looked like a Hungarian salami. Great Britain, known for its euroskepticism, was missing altogether. Bulgaria, after being depicted as a series of Turkish toilets, felt particularly offended and summoned the Czech ambassador to Sofia for an explanation.
Today, Cerny spends most of his time in a studio he set up in a former railways building. Sandwiched between tracks and a flyover, the Meet Factory is also a cultural center, gallery, cafe, and night club. Kenan Aliyev, Hanna Novotna, and Anna Zamejc from RFE/RL's Azerbaijani Service went to meet him. Here are some excerpts from their interview.
RFE/RL: Does the weather affect your art? Three months of snow, cold, everybody's complaining.

Cerny:
I was [expletive] pissed because of the weather. On the other hand, I had a chance to go snowboarding a bit.
RFE/RL: Do you do any art during this time?

Cerny:
I had a pretty depressing winter, so it will probably affect, well, it affected something I'm sure... I don't have any sign it really affected what I was doing during the winter in terms of projects.
RFE/RL: In general are you depressed?

Cerny:
In general, yeah I'm usually depressed in the winter. This winter was particularly depressing, but somehow I got over it.
RFE/RL: Where do you get your inspiration from? Is there anything that inspires you to do what you do?

Cerny:
[Most of all], probably, alcohol, sex. That's it.
RFE/RL: No drugs?

Cerny:
No drugs.
RFE/RL: A lot of journalists always label you as a very controversial artist. I was wondering, is there anything that shocks David Cerny?

Cerny:
I am really shocked by the idiocy of the political system, and especially I am shocked by Czech politicians. You know everybody should not be surprised but what they are doing is just unbelievable, you know, last week. I am terribly shocked, I am.
RFE/RL: Have you ever thought of going into politics?

Cerny:
No, I am trying to avoid [it] and I don't think that it would be a good idea to be active in politics because I can imagine, I would immediately have tons of fans and I want to have my privacy. You know, I sometimes [pick up] some stupid tabloid...I like my private life and I don't want to be chewed up in the media.
RFE/RL: The famous sculpture you did for the European Union made headlines all over the world. Did you intentionally decide to be controversial or was it just a way of expressing yourself?

Cerny:
It was fun. The whole Entropa was a funny piece and they called it controversial. It was controversial because it was installed in that building. Now it is in the DOX gallery here in Prague and nobody cares.
RFE/RL: Have you traveled to Bulgaria since then?

Cerny:
Not yet.
RFE/RL: Do you think they will let you in?

Cerny:
Well, if I fly with my plane, they will let me in, but it's hard to say if I will get out.
RFE/RL: But it wasn't personal, right?

Cerny:
Of course, it wasn't personal. Why would it be personal?
RFE/RL: They were pissed.

Cerny:
Well, they were a bit pissed. But I would say that we thought that we would insult different countries [other] than [just] Bulgaria
RFE/RL: Like which countries?

Cerny:
Like Poland was the top. [...] It is funny because we did not expect that, we expected a reaction from Poland and we expected a reaction from Britain. Somehow all the reactions from Poland were massively positive, massively positive, seriously, and I was wondering why, maybe it was because "Gazeta Wyborcza" did, at the first moment, they did three pages. It was on the front page saying "that's genius!" and nobody was probably willing to protest against the opinion of "Gazeta Wyborcza."
RFE/RL: Well, people did protest against "Gazeta Wyborcza." But you managed to persuade the press. Do you receive a lot of e-mails from your fans or people that hate you?

Cerny:
Of course, I have a couple of hate e-mails but mostly positive and a lot of offers for Viagra, offers for Rolex watches, and quite a lot of [offers for] penis extensions.
RFE/RL: And when these people write to you or when your fans write to you, what do they say in the emails?

Cerny:
It depends.
RFE/RL: I noticed the upside down horse, what does it represent?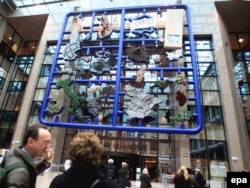 The controversial Entropa installation



Cerny:
It doesn't represent anything, it is a nice sculpture.
RFE/RL: Any message?

Cerny:
But the horse is dead. The horse is dead .
RFE/RL: Why?

Cerny:
Because it is dead.
RFE/RL: No hidden agenda there?

Cerny:
Well of course there is a hidden agenda...
RFE/RL: So was it supposed to challenge the national symbol and ideals?

Cerny:
I would leave the explanation to the viewers. I am doing the visual art and if you do something and then you make an explanation, it's kind of stupid.
RFE/RL: Do you like living in the Czech Republic? Which country would you like to live in?

Cerny:
I hate it. I just have so many things to do and I am running this facility and I am stuck here.
RFE/RL: Where would you prefer to be?

Cerny:
A private island, somewhere in the Pacific. I would pick three, four, five of my girlfriends from Prague and from the future and a bunch of friends of mine and we would just have a nice party. The only thing I would need is a little private jet. This would be the ideal set up.
RFE/RL: If you weren't an artist, what would you be?

Cerny:
A pilot.
RFE/RL: Why?

Cerny:
I am a pilot. I am flying my plane so I would be probably a pilot.
RFE/RL: Do you feel the adrenalin?

Cerny:
It is not about the adrenalin, it is about the quietness, loneliness, being up in the sky.
RFE/RL: Nobody bothers you.

Cerny:
Nobody.
RFE/RL: Regarding your art work, do you regret anything?

Cerny:
I actually regret the moment, how we were talking about the recent exhibition. I regret the way we presented Entropa. It was because of the enormous pressure. I regret that quite a lot.
RFE/RL: During the Velvet Revolution, you were quite young, in your early 20s. Did you go to the streets, did you rally? How do you remember that time? Was it more interesting, more meaningful for you?

Cerny:
It was great because we expected, I was 100 percent sure, I would emigrate before the end of communism, and during the revolution I was not working as a dissident, but of course I was caught by police during the demonstrations and I was quite active. I was doing a private gallery, which was closed by the secret police and stuff like that. Whatever. So that was the moment when we hopefully realized that we could do something and that it is worth staying in this country and not emigrate. [...]
RFE/RL: The pink tank, what does it depict? What is it associated with?

Cerny:
I wanted to date one friend of mine and she was in Bratislava. At that time she was 18 and I was 21 and I desperately wanted her, like seriously, and I needed to get her into Prague and so I needed to get her attention and I have to admit it worked. She saw me on TV and then she called and she came.
RFE/RL: You are not joking?

Cerny:
I am not joking. Of course. Do you want her number?
RFE/RL: Was it a message of love?

Cerny:
It was a love message. It worked. I am not joking.
RFE/RL: Is she still here or not?

Cerny:
No. This was 20 years ago. It was a big message then.
RFE/RL: Do you still do this kind of crazy stuff?

Cerny:
No of course not, I am serious at the moment. See?
RFE/RL: When did you decide to become an artist? Is it something that comes from education?

Cerny:
My parents are artists. When I was growing up I decided that I didn't want to do anything with art because I was exposed to art so much. My mother is a decorator and my dad does graphic design. My mom did most of her work at home and I was exposed to all the things she did, paintings etc. and I hated it I have to say. And when I was in 3rd or 4th grade in high school I was doing electronics, I didn't do art. I decided that electronics didn't interest me so much. So I decided to go the other way.