Meeting in Ankara, Russian Prime Minister Vladimir Putin and his Turkish counterpart Recep Tayyip Erdogan have come to agreement on Moscow's request to route its South Stream gas pipeline through Turkey's territorial waters.
"The South Stream pipeline is a much needed project that is particularly important in the context of ensuring the energy security of the whole of Europe and the development of a broad range of ties between Russia and Turkey," Putin said. "Our negotiations showed that we can find solutions, together with the Turkish leadership, that open the way to new, large-scale energy projects."
The pipeline is seen as a competitor to the EU's Nabucco project, which will also transit through Turkey and already has secured Ankara's approval.
The outcome of the meeting seemed to have been a forgone conclusion. A top aide to Putin told the press on August 5 in Moscow that Turkey already had already agreed "in principle" to the Russian proposal.
Yury Ushakov, Russia's deputy head of the government staff, said a protocol on cooperation in the gas industry would be signed on August 6 and would also fix a date for the start of the construction work.
The agreement represents an important diplomatic victory for Moscow. The accord allows Russia's pipeline across the Black Sea to bypass Ukraine's territorial waters, giving Moscow a completely independent alternative to its overland gas routes via Ukraine to Europe.
Tensions between Moscow and Kyiv have bedeviled the trans-Ukraine pipelines for years, causing showdowns between the two capitals that periodically have brought gas deliveries to Europe to a halt.
Benefits For Both Sides
But what will Turkey get in exchange for helping Moscow? Taylan Bilgic of the "Hurriyet Daily News" in Istanbul says that the quid pro quo is more energy for Turkey.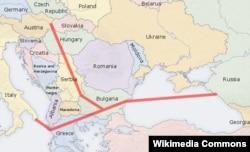 South Stream gas pipeline route
"The country needs energy and its own energy need is rising exponentially," Bilgic says.
"It is now building hydroelectric power stations, it will probably build the country's first nuclear power station, and Russia, in these issues, has both the know-how and the knowledge and the capacity to help Turkey. Plus, of course, it is an indispensable source of natural gas for the country."
Russia already supplies gas to Turkey across the Black Sea via the Blue Stream pipeline. Beyond that, Ankara has secured agreement from Russia to supply oil for a planned Turkish pipeline that would go from the Black Sea coastal town of Samsun to the Mediterranean oil hub of Ceyhan.
Ushakov told Reuters on August 5 that in the run-up to Putin's visit, the Turkish side "made concessions on South Stream [and] we made some concessions on the Samsun-Ceyhan pipeline." He said the Russian concessions were to seriously study undertaking the oil-pipeline project.
Threat To Nabucco?
The Russian-Turkish deal-making is likely to annoy Brussels, which is seeking to build its own gas pipeline via Turkey to bring energy from the Caspian region and other eastern sources to the European Union.
In July, Turkey and four EU member states signed a transit accord that allows work to start on the Nabucco pipeline once energy supplies and financing for the project are secured. Brussels hopes to complete the pipeline by 2014 and sees it as a way to reduce the bloc's dependence on Russian gas.
The cost of dependence on Russian gas was sharply illustrated in January, after a dispute between Moscow and Kyiv over gas prices cut supplies to European consumers for several days.
During the dispute, Moscow threatened to freeze Kyiv into paying an outstanding gas bill, and Western countries found themselves helpless hostages. The incident raised EU concerns over Moscow's readiness to use energy is an economic and diplomatic weapons and added urgency to calls for finding alternative sources.
Still, if Brussels is unhappy about the South Stream deal in Ankara, Turkey appears ready to ride out any tensions.
"The country has been part of the Nabucco project, which is basically a project to save Western Europe from Russian dominance in natural gas, but it can also do a balancing act and keep relations good with Russia," Bilgic says. "So, it is a delicate game here, in energy issues Turkey cannot simply dismiss Russia."
Part of Brussels' concern over South Stream is that the project could come on line before Nabucco. South Stream, which will run from Russia's Black Sea port of Sochi to Bulgaria, then on to Austria, is scheduled for completion by 2015, a year after Nabucco. But, unlike Nabucco, its energy supplies and much of its financing are already guaranteed by the Russian state.
South Stream is to be jointly financed, owned, and operated by Gazprom and the Italian energy giant Eni. Russian news agencies have reported that Italian Prime Minister Silvio Berlusconi could make a surprise fly-in to the talks on August 6 to welcome the Russian-Turkish deal.
Much In Common
Analysts say that Putin's securing the South Stream deal is likely to add to his prestige in the region, where he is seen as a strong leader able to stand up to the West -- and particularly the United States -- in a perceived unipolar world.
"Vladimir Putin is a very popular leader not only in Russia but in the whole region," Bilgic says.
"You can see that in Turkey, for example, when Putin takes a decision that contradicts Washington's interests in energy issues or maybe on military issues, the mood in this region changes and people compare Putin to their own leaders and start questioning why they leaders can't be like Putin, standing up to the United States."
The admiration for Putin -- or at least the desire to emulate him -- seems at times to even extend to Turkey's own Prime Minister Erdogan. The two men have very different backgrounds and political ideologies but, according to Bilgic, they do share some traits. Both are populists and both have authoritarian tendencies:
"We are told that the Russian government is not very fond of freedom of the press, for example, and we have experienced many similar instances here that display that Prime Minister Erdogan is not very fond of a free press," Bilgic notes.
Among the deals signed by Putin and Erdogan are cooperation accords in a number of fields, ranging from customs and agriculture to education and culture, and also on nuclear energy.
In January, Turkey held a tender for the construction of its first nuclear power plant in which a partnership led by Russia's state firm Atomstroyeksport was the only bidder, but Ankara is yet to finalize a contract.
Energy Minister Taner Yildiz said on August 5 that Ankara would like the Russian-led consortium to lower its proposed price for supplying electricity to the Turkish power grid.