RFE/RL Contributor Released From Turkmen Detention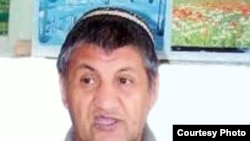 RFE/RL commentator Sazak Durdymuradov has been released following two weeks of detention in Turkmenistan, part of the time at an infamous psychiatric hospital in the remote east.
An Ashgabat correspondent for RFE/RL's Turkmen Service spoke to Durdymuradov's family, who confirmed his return home to the town of Baharden on July 4.
Durdymuradov's son, Atajan, says his father is in good health. That's despite reports that Durdymuradov was beaten and tortured while in custody for not signing a statement pledging never to work for RFE/RL again.
Read more about Durdymuradov's release
here
.
About This Blog
"Watchdog" is a blog with a singular mission -- to monitor the latest developments concerning human rights, civil society, and press freedom. We'll pay particular attention to reports concerning countries in RFE/RL's broadcast region.
Journalists In Trouble
RFE/RL journalists take risks, face threats, and make sacrifices every day in an effort to gather the news. Our "Journalists In Trouble" page recognizes their courage and conviction, and documents the high price that many have paid simply for doing their jobs. More