TBILISI/PRAGUE (RFE/RL) -- Tens of thousands of government critics are gathering in the Georgian capital and other major cities to demand the resignation of President Mikheil Saakashvili and to call for early elections.
Opposition leaders say they hope as many as 150,000 people will attend the Tbilisi protest, and have vowed to continue the demonstrations until their demands are met.
Organizers had called for a mass demonstration to begin at 2:00 p.m. local time, but RFE/RL correspondents reported that protesters had begun assembling outside the parliament building in the Georgian capital early this morning.
Crowds were still filing along Tbilisi's main avenue toward a square outside the country's parliament building after events got under way, according to an RFE/RL Georgian Service correspondent at the rally.
Fire crews and hundreds of police in full riot gear were deployed within the courtyard of the parliament building in central Tbilisi overnight.
In comments to RFE/RL's Russian Service, former Georgian President Eduard Shevardnadze said the protests might last several days and expressed concern that government officials could use force against the protesters, although he said the first day was likely to be peaceful.
National Strains
Even before the protests began, opposition groups were reporting that some of their members were being detained by Georgian authorities.
The Democratic Movement-United Georgia party claimed that about 60 of its activists were arrested overnight in the town of Rustavi, southeast of the capital. Party spokeswoman Khatuna Ivanishvili said the activists were planning to attend the rally in Tbilisi.
But Georgia's Interior Ministry has denied any such detentions.
Rallies also have been called for other major cities and are likely to include Kutaisi and the Black Sea port city of Batumi.
The demonstrations were scheduled to coincide with the 20th anniversary of a Soviet crackdown on peaceful pro-independence demonstrators in Tbilisi. On April 9, 1989, 21 people -- 17 of them women -- were killed when police and troops attacked the crowd of anti-Soviet protesters.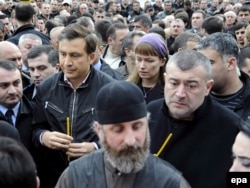 President Saakashvili (left) participated alongside opposition leader Levan Gachechiladze in an April 9 ceremony to the victims of the Soviet crackdown.
Embattled President Saakashvili spoke to a crowd that included opposition leaders on the same square earlier in the day, during a ceremony to honor the victims of the Soviet clampdown.
He appealed for national unity as a fitting tribute to the dead.
"We are a democratic country and people have different opinions, but one thing is absolutely clear: despite the differences in our opinions and our different standpoints, we have one motherland," Saakashvili said. "We need unity for this motherland. We need to work for this motherland around the clock. We need to finish our fight, our fight for freedom. We need to liberate our country once and forever and to turn our country into a modern, democratic, European one."
Mutual Mistrust
Pressure against Saakashvili has been rising since Georgia's war with Russia in August.
More than a dozen opposition leaders have called for their supporters to join demonstrations in major Georgian cities.
Among them is the leader of Alliance for Georgia, Irakly Alasania, Georgia's former ambassador to the United Nations until December when he resigned from that post and joined the opposition to Saakashvili.
"We are not following the path of the 'Rose Revolution,'" Alasania told reporters at a news conference in Tbilisi on April 8. "But what we are trying to do is to demonstrate to the government, to the president, and the international community that there is a huge mistrust toward the government from the public. And the changes that we are requesting are legitimate because of the past year and a half that drove our country into this global, big political crisis."
Interior Minister Vano Merabishvili, one of Saakashvili's closest confidants, said the goal of authorities is to prevent violence.
"[W]e have decided to confine ourselves to protecting the government buildings," Merabishvili said. "And I want to say we will concentrate only on the protection of those building, so as not to give the possible groups of radical opposition any reason or pretext for serious confrontation."
Merabishvili's deputy, Eka Zguladze, suggested at a news conference in Tbilisi on April 8 that some opposition activities may be planning to use violence.
"The red lines are very, how to say, simple -- don't use firearms, don't bring firearms, don't exploit anyone, don't kill any one, and so on," Zguladze said bluntly. "Otherwise, move around, meet anywhere, have one demonstration, have ten locations of demonstrations, take as long as you wish."
Some analysts warned that frustrations in Georgia risked boiling over into unrest. They speculated that the demonstrations would test the opposition's unity, its strength of leadership and the level of support that it commands beyond Tbilisi.
RFE/RL's Georgian Service contributed from Tbilisi and Prague; written by RFE/RL correspondent Ron Synovitz