TEHRAN (Reuters) -- Iranian authorities have temporarily closed down the newspaper of Mehdi Karrubi, a leading reformist opponent of President Mahmud Ahmadinejad, the website of his party has said.
"Etemad-e Melli" was shut down late on August 16 on the orders of the Tehran prosecutor's office, the party website said. The party's name is also Etemad-e Melli (National Trust). The newspaper was not published on August 17.
Karrubi finished fourth in the disputed June 12 presidential election. He and the moderate runner-up, Mir Hossein Musavi, say the vote was rigged to secure Ahmadinejad's reelection. The authorities deny the charge.
Karrubi, a cleric, earlier this month angered many hard-liners by saying that some people held in connection with postelection unrest had been "savagely raped" in jail. His allegation was rejected by the authorities as "baseless."
The party website quoted Karrubi's son Hossein as saying, "Last night a representative of the prosecutor's office came to the 'Etemad-e Melli' printing house and announced the temporary shutdown of the daily."
There was no immediate comment from the judiciary.
Iran Election Special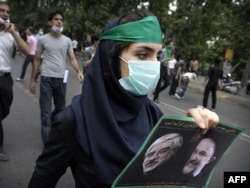 RFE/RL's Full Coverage
Following the disputed reelection of Iranian President Mahmud Ahmadinejad, supporters of Mir Hossein Musavi have taken to the streets to protest.
Click here
for news, blogs, and analysis of the presidential election and aftermath.