At the central bus station in Lashkar Gah, buses arriving straight from the town of Marjah have been packed full of the displaced in recent days.
Hundreds of Afghan families are fleeing Taliban-controlled territory in the southern Afghan province of Helmand ahead of an expected offensive by NATO and Afghan government troops.
As many as 2,000 Taliban fighters reportedly are concentrated and fortifying themselves in and around the town of Marjah.
Fearful of being caught in the violence, some residents are heading for Helmand's provincial capital of Lashkar Gah or places in neighboring Kandahar Province that they consider to be relatively safe. Many trucks can be seen along the road -- loaded with furniture, home appliances, and other personal belongings of fleeing families.
Mauwla Dad, a truck driver from Marjah, tells RFE/RL he has made more than a dozen recent journeys, shuttling families and their belongings to safe haven.
"Every day, I have been providing transportation for three or four families," Dad says. "People are leaving Marjah amid rumors that the [anti-Taliban] offensive could begin any day now."
A Radio Free Afghanistan correspondent in Helmand Province reports that villagers also are escaping to the nearby districts of Baba-ji, Nad-Ali, and Gereshk.
But Brigadier James Cowen, the British commander of Task Force Helmand, tells Reuters in Lashkar Gah that he thinks reporters are blowing the civilian movements out of proportion.
"I think those reports of fleeing residents is a little exaggerated, in fact. I mean there are some leaving the area, but by no means the numbers that the news are reporting," Cowen says, according to Reuters. "I think we may see more of that in the forthcoming days, but we are keeping a close eye on it."
Families Uprooted
Ghulam Farouq Noorzai, who heads the Afghan government's refugee affairs department in Helmand Province, says officials have formed an "emergency commission" with plans to receive 15,000 families. They have also sent a delegation to meet with UN humanitarian aid officials responsible for southern Afghanistan.
"The World Health Organization, the World Food Program, and the United Nations Refugee Agency -- the UNHCR -- have accepted our plan," Noorzai says.
Noorzai tells RFE/RL that villagers in and around Marjah are gravely concerned about the expected military offensive. He says many are staying in their homes for now because they have no place to go, but adds that a flood of displaced families are expected in Lashkar Gah and in nearby Kandahar Province once the anticipated offensive begins.
"Around 400 to 500 families already have arrived [in Lashkar Gah]," Noorzai says. "Our emergency commission is registering these displaced people. We have created a refugee center at a school ground in Lashkar Gah and plan to move them there soon."
Haji Akhtar Mohammad, a resident of Marjah, tells Reuters that he considers the offensive a necessary step by Afghan and NATO forces to keep the province free from the kind of intimidation that Taliban fighters have imposed on residents of his community.
"The military operation is being launched in our village in order to keep us from any possible danger," Mohammad says, according to Reuters. "I decided to leave the village [for now] and we are heading to Lashkar Gah to rent a house."
Military Might
Meanwhile, NATO and Afghan government checkpoints have been set up around the Marjah district in an attempt to stop Taliban fighters from slipping out of the area among the fleeing civilian population.
RFE/RL's correspondent in Helmand reports that scattered clashes were occurring today at villages in the nearby district of Nad-Ali, where NATO and Afghan government troops have set up blocking positions.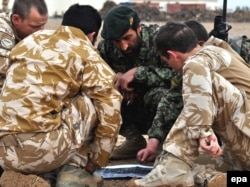 NATO soldiers prepare for offensive against Taliban militants at Camp Bastion, in Lashkar Gah on February 8.
Marjah sits near the dividing line between British forces who patrol the northern part of Helmand Province and U.S. Marines who patrol the southern areas. The British-led NATO contingent is nearly 10,000 strong while U.S. forces number about 15,000.
Thousands of Afghan security forces also are expected to take part in the offensive -- codenamed "Operation Moshtarak." They include troops from the Afghan National Army as well as about 100 specialists from Afghanistan's elite police unit -- the Afghan National Civil Order Police.
Brigadier James Cown, the commander of British forces in Helmand, says the Afghan security forces will play a greater role than in any previous offensive involving NATO forces in Afghanistan.
Their training has included work on locating and removing land mines and improvised explosive devices -- which are expected to be a prevalent in terrain where Taliban fighters have been preparing defenses.
"All of our officers in the ANCOP team are ready for any kind of operation," Colonel Qadam Shah, a brigade commander in the Fifth Battalion of that elite Afghan police unit, says. "I am proud of my role for being a part of it."
U.S. Marines, the first wave of a U.S. troop surge ordered by U.S. President Barack Obama, pushed Taliban fighters out of much of southern Helmand Province last summer while British forces captured Taliban strongholds in the north.
However, those forces met weaker than expected resistance because many Taliban apparently fled to strongholds in Marjah and nearby villages. Marjah district is crisscrossed by irrigation canals -- terrain that is well suited to the Taliban's style of guerrilla tactics.
New Dynamic
NATO-led air strikes have targeted Taliban forces in previous operations where the Taliban has been concentrated. But air strikes also have the potential to alienate the local population when they miss their targets and kill innocent civilians.
NATO military leaders have said the offensive on Marjah will be one of the defining operations in their counterinsurgency campaign in Afghanistan the collapse of the Taliban regime in late 2001.
Already the U.S. troop surge has created a new dynamic on the ground in southern Afghanistan. In years past, spring offensive operations have been Taliban guerilla campaigns against NATO and Afghan government forces -- as well as bombings and assassinations of civilian Afghan officials in provincial areas.
But with thousands more foreign troops on the ground -- along with better trained and equipped Afghan security forces -- the Taliban now looks set to be on the receiving end of a spring offensive in Afghanistan.
A Taliban statement during the weekend criticized the buildup of forces around Marjah at a time when the government in Kabul has been trying to convince the Taliban that reconciliation and peace talks are possible.
RFE/RL's Radio Free Afghanistan correspondent Habib Qadir contributed to this report