Sixty-year-old tribal elder Hajji Malik Osman is a happy man and brims with confidence after bringing together the leaders of his 400,000-strong Shinwari tribe against the Taliban last week.
For decades, Osman has been sitting on jirgas, or local councils, mediating complex disputes over land ownership, or long-running feuds among families and clans. But the agreement to unite his entire tribe against the Taliban is his greatest achievement to date.
Osman and fellow graybeards or "spin giree," a Pashto-language term marking their age and wisdom, last week concluded a written agreement to keep the Taliban out of the six districts in eastern Nangarhar Province where the Shinwaris live and survive on a mixture of agriculture and cross-border trade.
"We agreed that anybody who allowed the Taliban in their village will pay a 5 million-Afghani [$10,500] fine and we will burn their homes," Osman tells RFE/RL's Radio Free Afghanistan. "We have also agreed that nobody will plant poppies. We agreed that all of our estranged brothers will be welcomed back to their homeland and will be allowed to live [peacefully] under the supervision of their tribes.
"So we have enforced a strong ban on the Taliban. We have suggested to hold a jirga with the [neighboring] Afridi tribe in the Tirah Valley [in Pakistan] to initiate a large uprising against the Taliban."
Copying Iraq Strategy
In return for their anti-Taliban stance, Shinwari tribal leaders will receive $1.2 million in direct aid from the U.S. military for local projects. The agreement echoes those made with the Sunni Awakening Councils in Iraq, whose funding by the U.S. military was credited with dramatically cutting violence in that country in the wake of the chaos that followed Saddam Hussein's overthrow.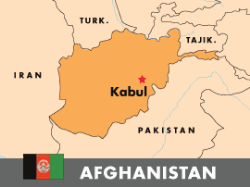 It presents Kabul and Washington with the possibility of turning more Pashtun tribes against the Taliban, whose insurgency is largely fought in Pashtun towns and villages and mainly attracts impoverished Pashtun youth.
In theory, the Shinwari model could be used with the Durrani, Ghilzai, Zadran, Zazi, and other Pashtun tribes, who make up nearly half of Afghanistan's population of 30 million and inhabit the arch of instability along the country's eastern and southwestern borders with Pakistan and Iran.
But it will not be easy, experts say.
Years of revolutions, war, migration, and transformation from subsistence agriculture and animal herding to a reliance on trade, transport, and planting opium poppy have weakened the tribal solidarity of extended kinship groups in Afghanistan.
In addition, Pashtun tribal leaders in Afghanistan and neighboring Pakistan have been a prime target for the Taliban and Al-Qaeda, who are blamed for the killing of hundreds of tribal leaders, in order to disrupt efforts to galvanize local opposition against their activities.
Richard Tapper, a professor emeritus of anthropology at the School of Oriental and African Studies in London who has researched Pashtun tribes in northern Afghanistan, cautions against applying the Shinwari model to the rest of Afghanistan:Exploiting Rivalries
Afghan lawmaker Badshah Khan Zadran represents the southeastern Paktia Province in the lower house of the Afghan parliament. Wearing a colorful traditional turban, the burly mustachioed figure is an archetypical Pashtun tribal elder, who passionately backs deals with the tribes to drive the Taliban out.
Having survived a Taliban suicide bombing in December 2006, Zadran has strong reasons to advocate against any negotiations with the Taliban.
His rivals are Taliban commanders Jalaluddin Haqqani and his sons, who come from within his Zadran tribe. Having fought together against the Soviet Red Army, they became enemies after Haqqani supported the Taliban and Zadran backed the return of the former monarch, Mohammad Zahir Shah, in the 1990s.
Their rivalry came to a head when Zadran backed the U.S.-led military campaign against the Taliban, which forced Haqqani out of power. Kabul now sees Haqqani as responsible for orchestrating deadly attacks from his bases across the border in Pakistan.
"My brothers [the tribes] can do everything -- everything, if they are given an opportunity and authority to do so," Zadran says. "They can form councils. They can raise local security forces called arbakis. They can be more effective than the government in their own regions."

Strengthening Tribal Structures
But Gul Padshah Majidi, a fellow tribal leader and fellow lawmaker from Paktia, disagrees. He tells RFE/RL that deals with the tribes should be made in a way that puts the Kabul government in the role of "bridge maker" between the tribal leaders and U.S. and NATO troops.
Majidi says plans to mobilize tribal solidarity against extremist networks should be based on a nuanced understanding of the changes clans and lineages endured during the rule of the Soviet-backed communist regimes and the anti-Soviet Islamists fighters who plunged the county into a civil war in the 1990s. He notes that communist leaders and jihadi guerilla commanders both empowered themselves at the expense of traditional tribal graybeards because of their access to foreign arms and cash.
And he worries that renewed efforts to bankroll tribal leaders might create new centers of power and unleash new cycles of reprisals leading to fresh conflicts and unending family and clan feuds.
Majidi says that the tribal leaders who form the basis of tribal structures should be empowered so that they can restore traditional local autonomy to their regions. But he argues that they must be prevented them from arming themselves under the pretext of forming anti-Taliban vigilante groups.
"In Paktia, all the tribes have their due share in agreements and the shuras or councils making major decisions. The tribal leaders represent their tribes and have popular backing," Majidi says. "The foundations [of this tribal structure] should be strengthened. And anybody who makes their decisions would be respected.
"This will benefit Afghanistan and promote peace in this region. And it will also help reconstruction in this region."
Power Of Dialogue
But tribal structures are not uniform across Afghanistan. Unlike the Paktia tribes, the Durrani and Ghilzai tribes in southern Afghanistan have no tradition of raising volunteer forces to maintain local security. But the tribal leaders among these tribes still command considerable respect and exert influence in their communities.
Helmand tribal leader and lawmaker Hajji Anwar Khan says that is the key. "We need to understand why people fight. What their problems are," he says, suggesting that only tribal leaders with deep roots in local communities can do so.
"If we penetrate into the clans and people we can convince them to think about why and for how long we will continue killing each other. Brother killing brother. What has already happened is enough," Khan says.
"All is not lost and now is the time to convince people. In my opinion we should support popular figures that have influence and can play a role among the tribes."
The Afghan government seems to have heeded such advice and ditched plans to create anti-Taliban tribal militias. Kabul now appears to be focused on talking with the Taliban though tribal councils, luring them into the political mainstream rather than trying to fight them off militarily.