(RFE/RL) -- Russia held local elections in more than 75 regions on October 11, with 7,000 posts at various levels of government up for grabs. And the pro-Kremlin United Russia party, headed by Prime Minister Vladimir Putin, grabbed almost all of them.
Instead of counting votes, however, opposition activists were tallying up alleged election-law violations.
Duma speaker and chairman of United Russia's Higher Council Boris Gryzlov announced that according to preliminary figures and exit polls, his party "is winning in practically all the election campaigns on the territory of Russia."
"In the Moscow City Duma, United Russia will have no less than two-thirds of the seats," he said.
Three regions -- the city of Moscow, Tula Oblast, and the Republic of Mary-El -- held legislative elections. Gryzlov added that his party anticipates a result around 60 percent in Mary-El and over 50 percent in Tula. In both cases, those figures are more than double what the ruling party polled in those regions four years ago.
Gryzlov said the results "attest to the unity of the people and the current authorities."
Riddled With Fraud
Opposition parties, including the Communist Party and Yabloko, charged that the elections were riddled with instances of abuse and falsification, including multiple voting and ballot-box stuffing.
Communist Party official and deputy Duma speaker Ivan Melnikov described the alleged violations for journalists.
"We believe that the number of violations was greater than during the last election cycle," Melnikov said. "The main violations were as follows. A huge number of people casting absentee ballots. There were huge numbers of voters who were moved around in organized columns and who voted several times each at different polling stations. We were able to videotape several of these columns, and we will take this information to their logical conclusion using all possible mechanisms, including turning to the courts."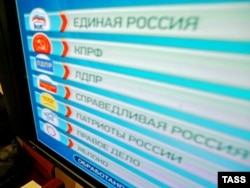 A video screen at the Central Election Committee office shows preliminary vote results in the Moscow City Duma elections.
Melnikov's fellow Communist Party official, Valery Rashkin, also accused United Russia of orchestrating its overwhelming victory.
"This community -- I'd call it the criminal-electoral community -- was throwing in ballots to benefit one party, the party of power," Rashkin said. And these administrative resources were backed up by force. The Interior Ministry and its regional branches were used like never before."
In most cases, competition was strictly limited beforehand, as "unwanted" candidates were not allowed to register. Moscow-based political analyst Mark Urnov tells RFE/RL's Russian Service that as a result, the voting was "routine, dull, and uninteresting."
"There are very few surprises here, first and foremost because the administration apparatus worked all-out for United Russia, and no serious, genuinely opposition candidates were allowed to run," Urnov says.

'Marginalized'
Dmitry Oreshkin, another independent analyst, agrees, telling Reuters that the authorities have created a scripted political process that has no room for outside players.
"The outside-the-system opposition -- that is, the opposition that isn't on the list of permitted political parties -- simply has no chance. They are on the periphery, marginalized," Oreshkin says. "They have no access to the media. They are not allowed to register as candidates or even as parties, as players in the electoral process. They exist outside the system that is called politics."
As a result, Oreshkin says, elections are a measure of the deployment of administrative resources, rather than a reflection of the will of the electorate. The generally low turnout -- just 30 percent in Moscow, for instance -- was seen as a result of voter fatigue with the highly manipulated process.
In only a few cases across the entire country were there surprises.
The mayoral race in the southern city of Astrakhan was hotly contested between incumbent Sergei Bozhenov, of United Russia, and Duma Deputy Oleg Shein, of A Just Russia. Shein, a high-profile politician who enjoys broad popularity in Astrakhan, was considered a fair match for Bozhenov.
The campaign was called one of the dirtiest ever in Russia. United Russia attempted twice to remove Shein from the race, prompting Shein to complain about the treatment in an open letter to Russian President Dmitry Medvedev and presidential aide Vladislav Surkov.
In the end, Shein was allowed to run, and the spirited contest got an unusually high voter turnout of 45 percent. Even before the vote count was complete, a nervous United Russia said it had documented 443 election-law violations in the race. In the end, however, it had little cause for worry: Bozhenov walked away with 65 percent of the vote; Shein had just 26.
In the city of Karachayevsk, in the North Caucasus republic of Karachayevo-Cherkessia, independent candidate Soltan Sultanov polled 51 percent to beat acting Mayor Umar Uzdenov, who was backed by United Russia. Otherwise, however, United Russia looks set to solidify its grip on power at the regional and municipal levels across the country, despite growing discontent with the way the authorities have handled the current economic crisis.
Political analyst Urnov says this weekend's spectacle attests to the growing estrangement between the people and the country's political leadership.
"I look at the elections as a sort of atavism -- nonbinding and having no impact on anything," Urnov says. "The authorities carry out their policies. The authorities decide who to place in offices and who not to place there. They think that is their own business and let the citizenry go live their lives."