The media rights watchdog Reporters Without Borders (RSF) says it has finally uncovered information about the prison where two journalists and human rights activists have been held for the past 2 1/2 years.
RSF has learned that Sapardurdy Khadjiev and Annakurban Amanklychev are imprisoned in the Turkmenbashi high-security prison, which is located in a remote desert near the Caspian Sea. The region is extremely hot in the summer and bitterly cold in the winter, and inmates are forced to do agricultural work in such conditions.
RSF says the inmates spend their time in filthy, overcrowded cells with no access to drinking water. The quality of what little food they receive is poor.
"We are deeply shocked by the inhumanity of the conditions," RSF said in a statement. "The detainees are forced to endure conditions that few could resist."
In August 2006, Khadjiev and Amanklychev were sentenced to seven years in prison on what RSF says were "trumped-up charges" of possession of illegal munitions. Many international rights organizations classify them as political prisoners.
Another journalist,
Ogulsapar Muradova
, a correspondent for RFE/RL's Turkmen Service, received a six-year sentence in the same case. She died in jail in September 2006 under mysterious circumstances. RSF says she was beaten by guards in the Ovodan Depe high security prison, located north of the capital, Ashgabat.
Journalists In Trouble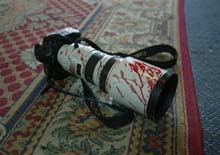 RFE/RL journalists take risks, face threats, and make sacrifices every day in an effort to gather the news. Our new "Journalists In Trouble" web page recognizes their courage and conviction, and documents the high price that many have paid simply for doing their jobs. More