SINGAPORE -- U.S. Secretary of State Condoleezza Rice has hailed the arrest this week of wartime Bosnian Serb leader Radovan Karadzic and said she hoped his army chief Ratko Mladic would be caught next.
"It's a tremendous step forward for Serbia and its European identity," Rice told reporters traveling with her on a trip to Asia. "I hope it provides an opportunity for some healing."
She said the Balkans was trying to overcome a long period of "extreme darkness" and the arrest of one of the most wanted suspects from the Bosnian conflict was "one more step in the end to that nightmare."
Rice said she hoped Karadzic's arrest would be followed by that of his army chief Mladic, who along with Karadzic was one of the most wanted suspects from the Bosnia conflict.
"The Serbs are making a step forward in closing an ugly chapter in their past and I just hope that Mladic is next," Rice added.
Karadzic and Mladic were indicted for genocide over the July 1995 Srebrenica massacre, in which some 8,000 unarmed Bosnian Muslim males were killed and bulldozed into mass graves.
Rice said the arrest of Karadzic showed "tremendous will" on behalf of the Serbian government and she hoped that efforts would be sped up both by NATO and the European Union to reach out to Belgrade.
More About Karadzic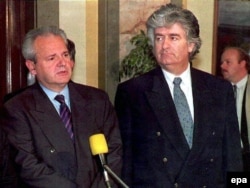 'Real Racist Believer'
Richard Holbrooke, the American diplomat who brokered the Dayton Accords, believes Radovan Karadzic was the "worst" of the "three evil men" of the Balkans. Who is the man known as the "Butcher of Bosnia"? More