TEHRAN (Reuters) -- The leading moderate candidate in Iran's upcoming presidential election has accused hard-line President Mahmud Ahmadinejad of humiliating the Iranian nation by adopting "extremist" foreign policy.
In a live debate on state television between the main candidates in the June presidential vote, former Prime Minister Mir Hossein Musavi said Iranian's dignity had been damaged since Ahmadinejad was elected in 2005.
The streets in the capital Tehran were largely deserted as millions of Iranians watched the debate, the first in the country's history since its 1979 Islamic revolution.
"The Iranians have been humiliated around the globe since you have been elected. I truly feel sorry for them," Musavi said.
Ahmadinejad's critics, including reformists and even some fellow conservatives, say his fiery anti-Western speeches and his questioning of the Holocaust have isolated Iran, which is at odds with the West over its disputed nuclear work.
Iran says its nuclear program is for electricity generation, but a number of Western countries believe the aim is to build nuclear weapons.
Musavi has said he would continue talks with major powers on the nuclear issue if he is elected president, in contrast to Ahmadinejad, who has ruled out any nuclear talks with the United States, Russia, China, France, Germany, and Britain.
Musavi also criticized Ahmadinejad's questioning of the Holocaust.
"Your Holocaust remarks have increased global sympathies for Israel when the Europeans were going to condemn its attacks on the Gaza Strip last year," Musavi said.
Iran refuses to recognize Israel.
The president hit back at Musavi, saying he was fighting against a "powerful triangle" made up of reformist former President Mohammad Khatami and his pragmatic predecessor, Akbar Hashemi Rafsanjani.
He accused Khatami, Rafsanjani, and Musavi of trying to weaken the Islamic state by wanting a policy of "detente" with the West.
Musavi, Ahmadinejad's main challenger in the election, advocates better ties with Iran's Western critics while rejecting their main demand -- a halt to sensitive nuclear work.
The debate occurred as U.S. President Barack Obama prepared to make a speech on Middle East issues in Cairo on June 4 in which he is expected to seek a way to mend ties to the Islamic world.
Iran Election Diary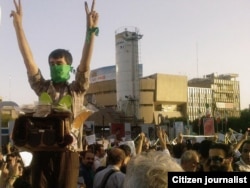 Disputed Presidential Vote
There have been protests and clashes with police on the streets of Tehran following the disputed reelection of Mahmud Ahmadinejad. RFE/RL collects videos, photos, and messages on social-networking sites coming out of Iran to attempt to get a picture of what is happening inside the country.
Click here