WATCH: Reuters footage of the opening of the national peace council, including the president's speech and the militant attacks outside the tent.By RFE/RL
A three-day peace council in the Afghan capital, Kabul, is continuing, despite insurgent attacks within minutes of its opening.
The jirga is to debate President Hamid Karzai's plan to reintegrate insurgent foot soldiers and reach out to their leaders for a political settlement.
Some 1,600 delegates are now divided into 27 committees to discuss the fine details of their recommendations to the Afghan government.
Shortly after the jirga's start, insurgents -- including at least two suicide bombers -- attacked close to the large air-conditioned tent in western Kabul where the delegates have gathered.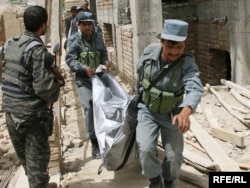 Police officers remove the body of an alleged Taliban militant after a gun battle in Kabul.
Officials say at least one rocket was aimed at the venue just as Karzai opened the meeting. The rocket fell short, but gun battles broke out near the venue as security officials clashed with an unknown number of gunmen. Two attackers were reported killed, but no delegates were hurt.
The attacks forced the proceedings to be delayed for an hour.
Jirga Commission Chairman and Education Minister Farooq Wardak claimed that the situation was under control as 12,000 police and troops are providing security.
"Our security forces have killed two of the enemies who were trying to disrupt the situation. One of them has been arrested, and the situation is under control," he said.
In his inaugural address, Karzai called the gathering "the hope of our Afghan nation to reach a peace agreement." And he made a passionate appeal to the Taliban to return to their homeland and join the peace process.
"I am calling on you again, my dear Talib brothers, that this land is yours. Come back, and if I am at fault I will accept it," Karzai said. "But if you are wrong, you should stop your mischief. Please don't kill our children and accept the calling of peace. Free yourselves from foreigners. Today, they have given you a gun but will imprison you tomorrow. What kind of jihad is this?"
Some 1,600 delegates, nearly one-fifth of them women, are discussing Karzai's proposals to invite major insurgent leaders to peace negotiations while offering their foot soldiers jobs, security, and prospects of a peaceful life after giving up their guns.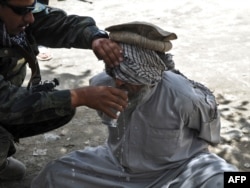 A police officer gives a drink of water to a captured Taliban militant following clashes in Kabul.
Karzai's proposals are presented in the 36-page Afghanistan Peace and Reintegration Program that the gathering will debate at length.
Speaking to journalists in Kabul today, presidential spokesman Wahid Omar explained the mandate of the jirga.
"Of course, the president has given the peace jirga that is ongoing right now the authority to advise the government as to what limits there are, who we can talk to, who we cannot talk to, and when we decide as to who we can talk to, what will be the mechanism," Omar said.
The Taliban, which dismissed the conference before it began and threatened death to delegates, claimed responsibility for today's attacks.
Another insurgent group, former Prime Minister Gulbuddin Hekmatyar's Hizb-i Islami, is also skipping the jirga, calling it "a useless exercise" because "only hand-picked people" were invited.
Despite his public posturing, Hekmatyar is expected to join the peace process.
Hekmatyar's representatives have recently held direct talks with Karzai and the United Nations. His past associates are senior members of the current cabinet and administration who are seen as being active behind the scene to bring him into the political fold.
written in Prague based on reports from RFE/RL's Radio Free Afghanistan and correspondent Abubakar Siddique, and agency reports