MOSCOW (Reuters) -- Russia's Central Bank has vowed to defend its floor for the ruble as the currency sank to fresh record lows and the finance minister outlined forecasts for a year of no growth and a hefty budget shortfall.
The ruble fell to 40.16 versus a euro-dollar basket, just 2 percent away from the 41 level signaled by the central bank as the boundary of its trading band last week, as it tried to put an end to 2 1/2 months of weakening.
Russia has allowed the currency to lose over a fifth of its value since November to adjust to a dive in commodity and oil prices and the worst economic outlook in a decade. But making the fall gradual has cost it a third of its currency reserves.
Officials now say the currency is near fair value, but markets are expected to test the Central Bank's resolve to defend the new trading corridor, especially as it has already spent a third of Russia's reserves on ruble support.
"There is going to be one almighty fight at 41," said a dealer at a foreign bank in Moscow.
Central Bank Chairman Sergei Ignatyev on January 29 affirmed the regulator's commitment to the band, saying it will be defended with market interventions and interest rates.
The ruble also sank to fresh record lows of 46.40 per euro and 35.54 per dollar.
Deputy Prime Minister Igor Shuvalov said on January 29 it could weaken further to 36 per dollar in the current climate, but added that Russia's ruble policy had not changed and the adjustments which have happened were necessary corrections.
Finance Minister Aleksei Kudrin said this year would likely bring zero growth, a budget deficit of 6.1 percent, and capital outflows of at least $100 billion.
"That is a fairly high deficit, even by crisis standards," Kudrin told the State Duma, Russia's lower house of parliament.
Though glum, his outlook was brighter than some expect -- Russian newspapers had reported that the deficit would be at least 7 percent this year, while some analysts expect the economy to contract by as much as 3 percent.
Reserves Needed
With such an outlook, Russia's remaining $386.5 billion of currency reserves are a key asset which will enable it to prop up the economy, plug holes in the budget and defend its currency.
"We should not spend all our reserves during the current year," Shuvalov told the Duma, adding that the current crisis will likely last three years and Russia may need the cash later.
Concerns over the reserves, though, are offset by political pressure to avoid an overly sharp depreciation. Ordinary Russians are very mindful of the last major crisis in 1998, when the currency lost over two-thirds of its value in a year.
Another way to help the ruble is for the Central Bank to limit its liquidity offerings to the banking sector, which could potentially prompt banks to start converting dollar and euro holders back into the ruble.
On January 30, the Central Bank slashed the money on offer at its first daily repo auction by 100 billion rubles to 375 billion. Bids at the tender exceeded supply by over 50 percent.
"It is quite a fast move [to the Central Bank boundary] and I think we will get there in coming days, not weeks," said Julia Tsepliaeva, chief economist for Russia and CIS at Merrill Lynch.
"There, at least for propriety's sake, they will have to defend it for a while...I do not see why the exchange rate should be much weaker than the suggested level. But with such heated expectations of devaluation it is more difficult."
World Economic Crisis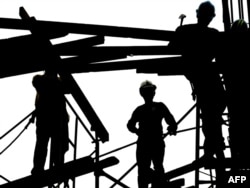 Multimedia coverage on the impact of the global financial crisis on markets and individuals across RFE/RL's broadcast region. More