TBILISI (Reuters) -- Russia has agreed to completely withdraw its troops from Georgia's heartland within a month, but there was no commitment to scale back its military presence in two Georgian separatist regions.
Georgia welcomed the deal as a "step forward." It was brokered by French President Nicolas Sarkozy on behalf of the European Union during four hours of talks with Russian President Dmitry Medvedev on September 8.
Last month's Russian invasion, which sent forces deep into Georgia in response to an attempt by Tbilisi to retake the breakaway region of South Ossetia, drew condemnation from the West and raised fears for the security of energy supplies.
Sarkozy and Medvedev, meeting at the neo-Gothic Meiendorf Castle outside Moscow, announced an agreement to pull back hundreds of Russian troops still stationed in buffer zones inside undisputed Georgian territory.
"Europe will be very vigilant on the realization of the agreement we have reached with President Medvedev," Sarkozy said later in Tbilisi. "If this agreement is applied as I hope and as I believe, we will have avoided deaths, misery, and suffering."
The French leader, accompanied by EU foreign-policy chief Javier Solana and European Commmission President Jose Manuel Barroso, took the deal to Georgian President Mikheil Saakashvili, who offered cautious approval.
"I think tonight a step forward was made, a step forward on the path towards the full implementation of the six points negotiated by President Sarkozy on August 12," Saakashvili said.
In contrast to Russia's conciliatory tone with the EU over Georgia, tensions with the United States flared on September 8 when Russia said it was sending warships for exercises in the Caribbean Sea, its biggest deployment there since the Cold War.
International Force
The United States said it was rescinding a U.S.-Russian civilian nuclear pact, saying the time was not right for the agreement "given the current environment."
Medvedev, after his talks with Sarkozy, made clear that he would not reverse his decision to recognize Georgia's breakaway South Ossetia and Abkhazia as independent states, a move condemned by the West.
Russia's Foreign Ministry said it would formally establish diplomatic relations with the regions on September 9.
"As for recognition, for us that issue is closed. From the point of view of international law, for us two new states have appeared," Medvedev said, standing alongside Sarkozy.
Medvedev said the deal on Russian troops withdrawals was made possible after the EU, represented by rotating president France, offered guarantees that pro-Western Georgia would refrain from any use of force against its separatist regions.
It still depended on the deployment of an international force to monitor the Russian troops, a contingent that would include a 200-strong EU force, according to a text of the agreement released by the Kremlin.
Georgia is home to pipelines carrying oil and gas from the Caspian Sea to world markets that are favored by the West because they bypass Russia. But the conflict has cast doubt on Georgia's viability as a safe energy route.
Russia said it was morally obliged to send in its military last month to prevent what it called a genocide in the separatist regions by an aggressive Georgian government egged on by its ally, the United States.
The agreement signed by Medvedev and Sarkozy did not contain any stipulation that Russia withdraw to preconflict positions, a demand previously mentioned by Western states.
That leaves Russia scope to leave troops and weapons inside South Ossetia and Abkhazia.
A European diplomat said that returning all Russian forces to preconflict positions was unrealistic. "How will we get the omelet back in the egg?" said the diplomat.
Limited Scope
The European Union has warned it will suspend talks on a new partnership pact unless Moscow pulls its forces from Georgia. The 27-member bloc has limited scope for influencing the Kremlin because it depends on Russia for its energy supplies.
Sarkozy said if his agreement with Medvedev was implemented, there was no reason those talks should not take place in October. That appeared to suggest the next round of scheduled talks, on September 15, would not go ahead.
"On October. 15, there must no longer be a single Russian soldier on positions beyond where they were before August 7," he said in Tbilisi. "Either it is done, and in that case each side has kept its word, or it is not done, and then five days later Europe will draw the consequences."
Judges at the International Court of Justice in the Hague on September 8 started hearing Georgian accusations that Russia committed human rights violations against ethnic Georgians living in South Ossetia and Abkhazia.
Russia's Foreign Ministry said it was sending its nuclear-powered cruiser "Peter the Great," as well as other warships and an antisubmarine aircraft, for joint exercises in November with U.S. foe Venezuela in the Caribbean Sea.
A ministry spokesman said the exercises had nothing to do with tensions over Georgia, but they follow Russian complaints about U.S. warships deployed in the Black Sea, an area where Moscow has been the dominant naval power.
Crisis In Georgia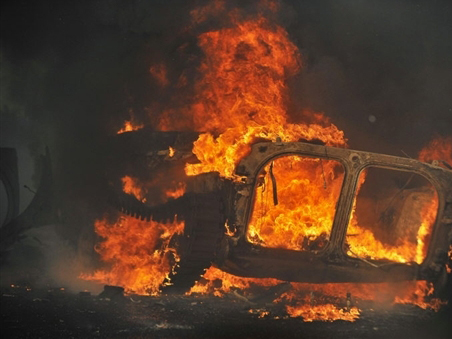 For RFE/RL's full coverage of the conflict that began in Georgia's breakway region of South Ossetia,
click here
.