MOSCOW -- The casinos on Novy Arbat street, the main gambling strip in Moscow, have already turned off their lights. One of the oldest casinos in the country, Metelitsa, has two signs, one saying, "Thanks for 16 years of trust" and another offering the place for rent.
"It's part of the history of Moscow," says Yekaterina Pushkova, an actress who lives nearby and was outside Metelitsa early on June 30 taking a picture.
"As long as I can remember this establishment has been here. There are a lot of myths and legends about the place. Really, the sign 'Thanks for 16 years of trust' evokes a sentimental feeling."
At the stroke of midnight, like Metelitsa, all the casinos and slot-machine arcades across the country were expected to close. As of July 1, gambling would only be allowed in four Las Vegas-style zones decreed by the government.
In the flashy, wild 1990s, casinos were an essential part of Russia, where millions were lost and won at blackjack tables or on spins of the roulette wheel. Gangsters and their molls played at their tables and were also said to be the owners in some cases.
But that's not what did the industry in. Instead, it was the humble slot machine.

Russian Las Vegases
In 2006, then-President Vladimir Putin pushed a law through that banned gambling from July 1, 2009, all over the country except for in four specially chosen zones: one in the Far East close to the North Korean and Chinese borders, one in the Altai region; a third in Kaliningrad; and the fourth close to the Azov Sea in the south of the country.
The areas were touted as the future Russian Las Vegases. Today the areas are similar to the gambling-world capital in only one respect: they are as empty as the desert that surrounds Las Vegas.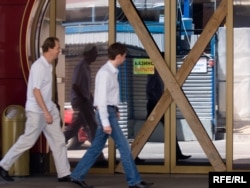 Closed for business in Moscow
Michael Boettcher is the head of Storm International, which has run casinos in Russia for more than a decade but is one of the many companies leaving the country instead of going to the zones.
"In Russia, they wanted to build four Las Vegases in 2 1/2 years in places that had absolutely zero infrastructure -- no roads, no water, no power -- no people, by the way -- and zero chance of anyone going there," Boettcher says.
"Apart from that, it was a great idea."
Boettcher's company employed 6,000 people in Russia. He spoke while flying to Georgia, where his company is now hoping to open a new casino.
None of the Russian casino companies have been tempted into the new gambling zones either. Local newspapers in the regions show empty fields where casinos were promised.
The gambling industry says that 400,000 people will lose their jobs because of the law and the Russian budget will lose $1 billion a year in tax revenues. President Dmitry Medvedev spoke recently of 60,000 jobs lost.
A Slot Machine On Every Corner
The 2006 decision came after a few years of expansion during which slot machines began to appear in the strangest spots, such as in underpasses and youth centers. Most strikingly, you could see slots right on the street, making the sight of people feeding money into the machines near bus stops commonplace.
This expansion was the result of a decision to give gambling-licensing rights to the State Sports Committee, which began to hand out licenses at a breathtaking rate. It was a decision opposed by many in the casino industry, who foresaw the potential for problems, Boettcher says.
"There were then 3,000 slot-machine locations in Moscow. Obviously a very bad idea, totally unregulated," Boettcher says.
"You could go and get a license for $20, go and buy two slot machines for $100 each, and invite your neighbors around. And that's what happened, by the way."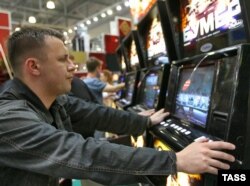 Most Moscow residents won't miss the ubiquitous slot machines.
The slot-machine expansion was not restricted to Moscow. Machines appeared in even the farthest corners of the country. The huge increase was deeply unpopular among Russians, and local doctors spoke of a sharp hike in gambling addictions.
"It is not only young people, but also retirees who lose their last kopecks and pensions through gambling," Putin said in 2006.
When the gambling restrictions were announced, they won widespread approval. Despite her affection for Metelitsa, Pushkova is one of those who fully supports the law.
"It will reduce the problem of those who don't have enough money for it but who are sick with gambling," she says. "The fact that casinos are closing will, I think, save a lot of families."

Gambling Goes Underground
Gambling officials hoped officials would change their minds at the last moment and leave the high-roller casinos, but Medvedev has ruled out any compromise.
As a way out, some in the industry have put their hopes on the poker industry. The game has been officially declared a sport, allowing casinos to become poker clubs. Many casinos have been running poker lessons for the last few months to try and create a market among those who won't have casinos to go to anymore.
Some slot-machines arcades have turned themselves into Internet cafes so that customers can play the slots online. But the Moscow city government has threatened to close down Internet cafes caught doing this.
When midnight strikes, the legal casino and slot-machine industry in most of Russia will be dead. No one knows for sure if the designated gambling zones will ever succeed, but one thing is certain -- gambling will continue, underground.
"You have a business, a business, where hundreds of thousands of people play every day, which is now being made illegal," Boettcher says.
"Do you think that people will continue to play in casinos? Of course they will, and of course people will seize that opportunity."