(RFE/RL) -- Russia is bracing for a day of nationwide antigovernment protests on March 20, with demonstrators set to take to the streets in dozens of cities across the country's 11 time zones.
Dubbed the "Day of Wrath," the protests are being organized by a variety of groups, including the opposition Solidarity movement, the Federation of Russian Motorists, the Communist Party, and various local organizations.
In many cities -- including Moscow, Kaliningrad, and Vladivostok -- local authorities have banned the rallies, setting the stage for potential confrontations between demonstrators and police. In the Russian capital, city police forces have already warned they will break up a protest scheduled for central Pushkin Square.
The protests come in the aftermath of a global economic crisis that has stifled the growth and rising living standards that Russians enjoyed over the past decade, severely damaging the ruling elite's credibility. The economic downturn has also emboldened Russia's opposition and sparked calls for greater democracy and pluralism.
A Kaliningrad activist with the opposition group Other Russia who gave only his first name, Denis, tells RFE/RL's Russian Service that he wants to see the resignations of both Prime Minister Vladimir Putin and the western region's governor, Georgy Boos, and the establishment of a truly democratic political system.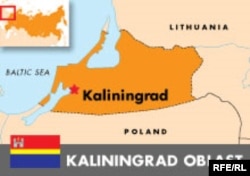 "We are active, young, creative, and we're going to continue what we're doing until freedom prevails," Denis says.
Pocketbook Issues
But as Russian political analyst Yulia Latynina points out, what is driving most people to take to the streets is not democratic ideals but rather bread-and-butter economic issues.
"They need to be really mass protests -- you know, hundreds of thousands of people. That's for sure," Latynina says. "And as I've already said, I don't think I would like Russian mass protests, because I'm not sure that the people who will go on the streets will say, 'Give us freedom.' Probably they will say, 'Give us money.'"
Latynina adds that much of the anger surfacing in Russia today stems from the fact that despite a decade of breakneck growth spurred by high oil prices, the authorities have done little to improve the country's crumbling infrastructure. At the same time, they are raising utility prices and fees for public transportation.
"Russia got $1.5 billion in oil and gas revenues in Putin's time," Latynina says. "It has built actually zero kilometers of expressways."
Protest Cat-And-Mouse Game
The authorities in various regions are attempting to use a variety of tactics to stem the tide of protest. In Kaliningrad, the local government has scheduled a four-hour televised question-and-answer session with Boos to coincide with the planned protest. They have also organized a farmer's market on the city's main square to keep it free of protesters.
In Krasnoyarsk in southern Siberia, "Kommersant" has reported that officials have scheduled a spring fair on the city's central Revolutionary Square, causing protest organizers to move their demonstration to the city's car market. Officials in the Far East city of Vladivostok have also scheduled a fair for the city's central square on March 20.
And in the southern Russian city of Saratov, the authorities hastily scheduled a concert by a Cossack choir on the square where demonstrators planned to gather.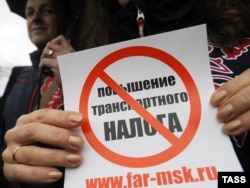 A proposed government plan to increase the car import and vehicle taxes has drawn protesters' ire.
Demonstrators are planning their own diversionary tactics to circumvent such moves. In Kaliningrad, for example, protesters are planning a series of flash mobs -- near-spontaneous gatherings of people organized via cell phone or e-mail.
Growing Anger
The protests follow a series of demonstrations and other acts of dissent in recent months.
On March 10, a petition appeared on the Internet calling for Putin's resignation that attracted more than 10,000 signatures.
Rock icon Yury Shevchuk, front man for the band DDT, launched into a four-minute diatribe against the Kremlin elite during a recent concert in Moscow, drawing enthusiastic cheers from the crowd.
The actor Aleksei Devotchenko -- star of popular TV crime shows like "Streets Of Broken Lamps" and "Bandit St. Petersburg" -- posted a diary on the Internet criticizing his colleagues in the music industry for cozying up to the Kremlin and making "pseudo-patriotic" propaganda films.
Scattered but consistent protests have cropped up in various towns and cities including protests in the east Siberian town of Irkutsk over environmental issues, in the Moscow suburb of Rechnik over authorities' plans to destroy residential community, and in the Moscow Oblast town of Zhukovsky over government corruption.
The biggest protest so far took place in Kaliningrad in late January, when a demonstration against a new transportation tax mushroomed into a massive rally calling for Putin's resignation that attracted more than 10,000 people.
Despite the wave of popular discontent, Latynina says the current regime is probably not in danger of falling anytime soon. "There are some regimes that are stable," she says. "It's like Franco. Franco's Spain was stable until his death -- not one minute before, not one minute after. So my pessimistic guess is that's the [way] it's going to be with Mr. Putin."
written by Brian Whitmore with contributions from RFE/RL's Russian Service and by RFE/RL correspondent Richard Solash in Washington