Russia's Foreign Ministry says the
arrest of 10 alleged Russian spies
in the United States includes Russian nationals and is a throwback to the Cold War.
U.S. authorities on June 28 announced they had broken a highly sophisticated spy ring that carried out "deep-cover" assignments in the United States to recruit political sources and gather information for the Russian government.
In a statement, the Russian Foreign Ministry called the U.S. allegations unfounded and pursued "unseemly" goals, noting that similar incidents "took place a number of times in the past when our relations were improving" with Washington.
"Such actions are baseless and improper.... We deeply regret that all of this has happened in the background of the relations' reset declared by the U.S. administration," the statement said.
In sarcastic comments during a June 29 visit to Israel, Russian Foreign Minister Sergei Lavrov said he had asked the United States for a swift clarification of the charges.
"They haven't explained to us what this is about. I hope they will," Lavrov said. "The only thing I can say today is that the moment for doing that has been chosen with special finesse."
Short-Term Toll
The Russian Foreign Ministry later said Russian citizens were among the suspects but "had taken no action which harmed the interests of the United States." Moscow urged U.S. officials to guarantee access to consular officers and lawyers.
Still later, Russian Prime Minister Vladimir Putin made disparaging remarks about U.S. law enforcement after a meeting with visiting U.S. ex-President Bill Clinton at his country residence.
"I see that your police have let themselves go and put some people in jail, but I guess that's their job," Putin said, according to dpa. "I hope the positive trend that we have seen develop in our bilateral relations recently will not be harmed by these events."
After more than 10 years of surveillance, investigators from the U.S. Federal Bureau of Investigation (FBI) decided to make the arrests on June 27, just days after an upbeat visit to the United States by Russian President Dmitry Medvedev, during which he was described by his U.S. counterpart, Barack Obama, as a "solid and reliable partner."
The White House said on June 29 that it did not expect the arrests to damage improving U.S.-Russian relations.
"I do not believe that this will affect the reset of our relationship with Russia," White House spokesman Robert Gibbs told a briefing. "We have made great progress in the past year and a half, working on issues of mutual concern from a new START treaty to working together on things like in the United Nations dealing with North Korea and Iran. So I do not think that this will affect those relations."
Like A Spy Novel
The arrests took place in several northeastern U.S. cities, including Yonkers, New York; Montclair, New Jersey, and Arlington, Virginia.
A total of 11 people, including the 10 arrested on June 27 and an 11th man detained in Cyprus on June 29, have been charged with conspiring to act as unlawful agents of the Russian Federation within the United States. If convicted, they face a minimum of up to five years in prison.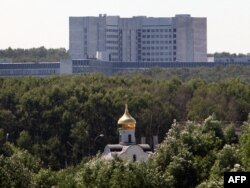 A view of the Russian Foreign Intelligence Service (SVR) headquarters outside Moscow
Nine of the defendants were also charged with conspiracy to commit money laundering, which carries a maximum of 20 years in prison.
(Cypriot police today said a man wanted in connection with the alleged spy ring was arrested in Cyprus. The man was arrested at Larnaca airport as he prepared to board a flight to Budapest and was released on bail pending U.S. extradition proceedings.)
The U.S. criminal complaints read like a spy novel. The 11 so-called "illegals" allegedly used forged documents and fake identities to pose as ordinary citizens and used encrypted messages, invisible ink, and "brush" encounters during which agents swapped identical bags.
Court documents say the goal of the agents, most of whom are believed to originally be from Russia, was to "become sufficiently 'Americanized'" to infiltrate what one coded message called U.S. "policy-making circles."
The case has drawn much criticism in Russia, where many call regrettable the decision to carry out the arrests after Washington's call for a "reset" in ties between the Cold War foes -- and just days after the cozy Obama-Medvedev meeting.
Some Russians view the U.S. revelations as a carefully planned operation to undermine the current warming in Russian-U.S. ties.
"It's obvious that the FBI had been keeping this group ready for a good occasion. They had had them under surveillance since at least 2003," says Aleksandr Golts, a Moscow-based defense expert. "There are circles in the United States that want to remind President Obama that one needs to be wary of Russians. That's the meaning of this whole story."
'Serious Blow' To Obama
Deputies at Russia's State Duma, too, have been largely critical of the U.S. crackdown.
Vladimir Kolesnikov, a former prosecutor-general who now serves as deputy chairman of the Duma's security committee, said he had no doubt Russia's reaction would be "adequate." He said retaliatory measures could include the prosecution of U.S. spies operating in Russia.
Deputy Nikolai Kovalyov, who once headed Russia's FSB security services, dismissed the case as baseless and "laughable." He said the timing of the arrests dealt a "serious blow to President Obama's stance" on Russia.
But other insiders say the FBI's decision to conduct the arrest after Medvedev's visit had nothing to do with politics.
"[The FBI] had wanted to make this information public for a long time. They had been following them for some years," says Oleg Gordiyevsky, a British-based former senior agent with the FSB's predecessor agency, the KGB. "The FBI's work could have been ruined if some of them left the country, so they convinced Obama to allow the publication of this information. It has nothing to do with improved ties with Russia, because relations with Russia remain chilly."
Gordiyevsky estimates
Russia has at least 400 spies currently working in the United States, and 60 or so "illegal" agents.
The blockbuster series of arrests, one of the largest ever in the United States, has been compared to the 1957 capture of famous Soviet spy Rudolf Abel in New York. Abel, also a deep-cover agent, was eventually swapped to the Soviet Union for downed U-2 spy pilot Francis Gary Powers in 1962.
written by Claire Bigg, with contributions from RFE/RL's Russian Service and additional agency reports