A former senior agent with the Soviet KGB has suggested that the recent arrests of alleged Russian spies in the United States is just the tip of the espionage iceberg.
Oleg Gordiyevsky, a British-based former senior agent with the Russian Federal Security Service's (FSB) predecessor, told RFE/RL's Russian Service that he reckons Russia has hundreds of spies currently working in the United States.
A "conservative" estimate is that 400 or so spies are operating in the U.S. from embassies and other Russian governmental institutions, he said.
He put the number of deep-cover agents, or "illegals" like those in the
recent case
, at around 60.
Gordiyevsky estimated the number of U.S. spies in Moscow at 20-25, and said the British had two spies in the Russian capital.
He did not elaborate on how he arrived at such specific figures.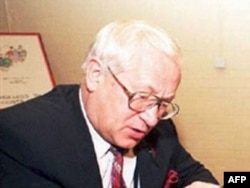 Oleg Gordiyevsky is a former KGB and MI5 double agent who now lives in the United Kingdom.
Gordiyevsky called this latest case "small politics" that will not alter Russian-American relations.
Political scientist Fedor Lukyanov said that although Obama's relationship with Medvedev and the Russian government is pretty well known, this spy scandal could sway opinions of Moscow in the U.S. Congress.
"There are two very important documents currently making their way through the U.S. Congress -- one in the House of Representatives to stop the spread of nuclear weapons, and one in the Senate regarding the Strategic Arms Reduction Treaty (START)," he told RFE/RL. "A growing political climate of suspicion and distrust could cause congressmen to vote against these bills."
Russian officials
have dismissed
the U.S. arrests as overzealous police work and hinted that they could harm bilateral relations.
But Reuters quoted an unnamed source at the Russian Foreign Ministery as saying today that "we expect that the incident involving the arrest in the United States of a group of people suspected of spying for Russia will not negatively affect Russian-U.S. relations."
Ten suspects were detained in the United States and an 11th suspect was reportedly picked up in Cyprus and face possible charges of conspiring to act as unlawful agents of Russia.