MOSCOW (RFE/RL) -- Jailed Russian lawyer Svetlana Bakhmina is set to return to her husband and three children after serving three years behind bars on charges of embezzlement while working as deputy head of the legal department of the now-defunct Yukos oil company.
Bakhmina, 40, was granted early release on April 21 from her 6 1/2-year prison sentence. Moscow's Preobrazhensky District Court Judge Irina Vyrysheva announced the ruling.
"The court has ruled to grant the petition of the convicted Svetlana Petrovna Bakhmina and release her on parole for the remaining term of two years, one month, and 15 days," Vyrysheva said. "The ruling may be appealed in accordance with the constitution to the Moscow City Court within 10 days after its announcement."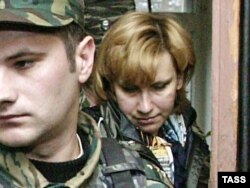 Svetlana Bakhmina leaves a Moscow court in 2005.
The judge said Bakhmina had been released two years, one month and 15 days early.
Two previous early-release requests for Bakhmina had been rejected.
The move is being hailed as a victory by human rights activists who say the Yukos lawyer was the victim of a political decision to bring down the oil giant run by fallen oligarch Mikhail Khodorkovsky. It is also being viewed as a test of President Dmitry Medvedev's pledge to uphold the rule of law in Russia.
Bakhmina was convicted of embezzlement and tax evasion in 2006 and had a child while in prison in the fall of 2008.
She was accused of embezzling some $290 million from the Tomskneft oil company. But Tomskneft found no evidence of the alleged crime and "declines to call itself an injured party," the Russian daily "Kommersant" reported.
Tomskneft representatives told the court in 2006 that there was "no seizure and they had no claims against the defendant," Bakhmina's lawyer told reporters. Charges of tax evasion were dropped in an earlier appeal.
Roman Golovkin, a lawyer for Bakhmina, spoke to journalists following the latest ruling.
"I hope Svetlana will be free already tomorrow," he said. "We've got all the papers we need, and a representative of the detention facility said they were going to begin processing the necessary documents already today."
A family friend told the Reuters news agency that Bakhmina, once released, will likely "give herself over entirely to bringing up her daughter," who was born in prison in November 2008, to the consternation of rights activists. Bakhmina also has two sons, both under the age of 10.
Lawyer Roman Golovkin displays a copy of the court's decision to free his client.
One month before Bakhmina gave birth to her daughter, supporters launched a "Help Svetlana Bakhmina" campaign. In little more than a year, the website collected 95,956 signatures.
A 2008 letter addressed to Russian President Dmitry Medvedev on Bakhmina's birthday and written by one of her classmates reads, "This girl, Dmitry Anatolevich [Medvedev], was born in a simple family -- a shop assistant for a mother, a father who drank... She got into the law department at MGU [Moscow State University] on her own -- without bribes, without tutors. Through her mind and labor."
In 2003, Khodorkovsky, who had angered the Kremlin by openly supporting the political opposition, was arrested on corruption charges. He was sent to prison in 2005 for an eight-year term and is
currently standing trial
on fresh charges that could add 22 years to his sentence.
After Khodorkovsky's arrest, the Russian government proceeded to freeze company assets and sell its main production unit to settle alleged tax debts. Yukos filed for bankruptcy in 2006. The Council of Europe protested the company's collapse, calling it a "coordinated attack by the state."
Khodorkovsky lawyer Robert Amsterdam told RFE/RL in 2005 that Bakhmina was a "hostage" of the Kremlin, a "pawn" in a politically motivated plot against Yukos.