MOSCOW (Reuters) -- Dozens of Russian riot police broke up a gay rights demonstration on May 16 before the Eurovision Song Contest final in Moscow, grabbing protesters and throwing them into police cars and vans.
A police spokesman said around 40 people were arrested, but Russia's Interfax news agency quoted a police source as saying up to 81 gay rights activists had been detained, including 32 held at a separate protest in the city center.
Russian riot police trampled hedges and pushed reporters away when they arrested about 35 protesters unfurling banners at the Sparrow Hills park overlooking central Moscow, calling for gay rights. Those arrested included Russian, Belarusian, and British campaigners.
"There is no freedom for gays in Russia," British gay rights activist Peter Tatchell shouted as police bundled him into a waiting car at the park, which is popular with newlyweds. "We call on President [Dmitry] Medvedev to meet with us."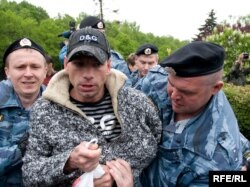 Russian police detain another participant in the gay-rights protest.
Tatchell was released a few hours later after what he said was intervention from the British Embassy in Moscow.
Gay activists in Russia say they are fighting for their constitutional rights in a deeply intolerant society and compare their plight to that of gays in Western Europe last century.
The late leader of Russia's influential Orthodox Church, Patriarch Aleksei II, said that homosexuals suffered a mental disorder similar to shoplifters.
The May 16 protest was timed to coincide with the Eurovision contest, where singers from 42 European nations compete to win one of the continent's biggest television events, in order to draw attention to the fate of gays in Russia.
"What was witnessed this afternoon on the streets of Moscow shows the world just how little Russia has traveled when it comes to supporting fundamental human rights," said Nikolai Alexeyev, one of the leaders of Russia's gay rights movement.
Alexeyev, through a spokesman, called for Eurovision contestants to condemn the police action from the stage.
Russian nationalists had threatened "to cure" any homosexuals who tried to take to the streets in Moscow and one gay man was hit several times by an antigay activist at a separate small gathering at Pushkin Square, down the road from the Kremlin.
The police detained about seven nationalist protesters at that meeting, a Reuters witness said.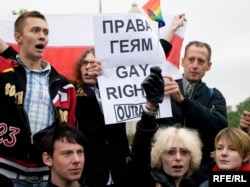 Activists staged the protest to coincide with the Eurovision Song Contest in Moscow.
Medvedev and Prime Minister Vladimir Putin have made no comment on the gay protest but campaigners said they wanted to meet the Kremlin chief to explain their problems. A Kremlin official declined to comment.
"I am shocked by the violent way the riot police have broken up this meeting," said Irina Fyet, a 30-year-old PR worker, who tried to marry her female partner last week in Moscow. The register office refused to allow the marriage.
"We can no longer be silent in Russia," she told reporters before being pulled into a police van by riot police in helmets. "We want the president to see how we are treated like dirt and common criminals. We want to meet the leaders."
Russian gay leader Alexeyev, dressed in a grey suit and tie, was detained by riot police while strolling with a man wearing a long white bridal grown. They said they were about to be married and asked why riot police wanted to arrest them.
"We have reason to believe you are walking with a man dressed as woman," one of the policemen told them, before a dozen riot police dragged them off to waiting vans.
The dress of Alexeyev's partner was partly ripped off as he struggled with police but he managed to fling a "wedding" bouquet to waiting officers.
Moscow Mayor Yuri Luzhkov has taken a hard line against homosexual protesters, once describing a gay rights parade as "satanic." Luzhkov's spokesman had said the gay protest could not go ahead because it would undermine morality in the capital.