BISHKEK (Reuters) -- Russia, seeking to offset growing U.S. influence in Central Asia, has asked Kyrgyzstan to allow it to open another military base in the impoverished nation, a senior Kyrgyz official has said.
Russia and the United States both operate their own military bases in Kyrgyzstan, an arrangement security analysts see as a symbol of Moscow's rivalry with Washington for control over the strategically important region bordering Afghanistan.
A senior Kyrgyz government official told Reuters that Moscow had asked Kyrgyzstan to allow it to open another military base in southern Kyrgyzstan.
"Russia voiced this request itself," the source said on condition of anonymity, citing the sensitivity of the issue. "Russia wants to restore its influence."
The source made his remarks shortly after a Russian delegation led by Igor Sechin, Prime Minister Vladimir Putin's powerful deputy, and Russian Defense Minister Anatoly Serdyukov, visited Bishkek this week.
Speculation that Moscow might be seeking another base in Central Asia emerged after Kyrgyzstan agreed last month to allow the United States to continue using its Manas air base, reversing an earlier, Russia-backed decision to shut it.
Moscow's aggressive push for more influence in Central Asia also contrasts with a largely cordial atmosphere during U.S. President Barack Obama's visit to Moscow this week.
Strategic Site
The Kremlin confirmed that talks had taken place in Bishkek.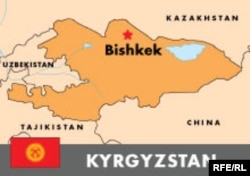 "I can confirm that Deputy Prime Minister Sechin and Defense Minister Serdyukov were there and held talks," Kremlin spokeswoman Natalya Timakova said on the sidelines of a Group of Eight summit in Italy.
She refused to elaborate on the topics discussed. The Foreign Ministry and the Defense Ministry declined comment.
The Kyrgyz source said Russia wanted to use an abandoned Soviet-era military facility near the city of Osh in the densely populated Ferghana Valley -- a strategic location near China and Afghanistan -- as a foundation for a new base.
"The issue is being discussed currently," the source said, adding that the facility still had good military infrastructure.
The U.S.-operated Manas air base opened in Kyrgyzstan in 2001 to support military operations in Afghanistan. Like Russia's Kant air base, it is located near the capital Bishkek.
Kyrgyzstan announced its decision to close it after securing pledges of $2 billion in aid and credit from Russia, which has long been uneasy with the U.S. military presence in a region it sees as part of its traditional sphere of interest.
The United States agreed to pay $180 million to Kyrgyzstan for the use of the Manas air base, an important transit point for troops and equipment en route to Afghanistan.