MOSCOW -- Russia says it began pumping natural gas to Europe, a week after a dispute with Ukraine left large parts of the continent without heat, but quickly accused Ukraine of blocking the resumed supplies.
The Ukrainian state gas company Naftohaz admitted it was blocking the transit of the gas through its territory because it said Russia's Gazprom gas monopoly was imposing "unacceptable" conditions for the transit.
At 10 a.m. local time, officials at Gazprom ordered the taps to be switched back on. It had been expected to take at least a day for the gas to reach the European Union borders, via transit pipelines across Ukraine.
A senior Gazprom technician was shown on Russian television giving the order by telephone from a control center to a gas-pumping station.
"Good day...I am requesting that as of 1000 Moscow time, you start supplying gas through Sudzha to the territory of Ukraine at the rate of 3.12 million [cubic meters] per hour or 76.6 million cubic meters per day for consumers in the Balkan region, Turkey, and Moldova," he said. "Carry out the order."
But just hours later, the gas transit through Ukraine was halted.
We believed that the door for Russian gas was open, but again it's been blocked by the Ukrainians.
"We believed [on January 12] that the door for Russian gas was open, but again it's been blocked by the Ukrainians," Gazprom export chief Aleksandr Medvedev said in a conference call with reporters.
The European Commission said monitors are reporting that "little or no gas" was flowing from Russia through Ukraine and said the situation must change.
The latest snag comes after a week of wrangling that appeared to be resolved on January 12, when Russia, Ukraine, and the EU reached a three-way agreement calling for the deployment of an EU-led monitoring mission to gas metering and compressor stations across Ukrainian and parts of Russian territory.
The mission includes EU, Russian, and Ukrainian officials and representatives of European energy companies.
Gazprom's chief gas controller had said Russia would begin by pumping gas at about one-quarter of the rate it sent to Europe before the crisis. That amount was meant to be swiftly increased to normal supply levels once international monitors confirmed that none of the Russian gas being transported through Ukraine has gone missing, Russian officials said.
What Price To Pay?
The EU has expressed its unease with the dispute. On January 12, European Commission President Jose Manuel Barroso said it was unacceptable that European citizens had been kept in the cold without the gas for which they had paid.
The gas crisis was sparked by a dispute between Russia and Ukraine on January 1 over what price Kyiv should pay for Russian gas. Russia originally cut its supplies to Ukraine only. But days later it halted gas supplies to consumers in Europe, which depend on Ukraine as a transit route for Russian gas, after accusing Ukraine of siphoning off gas destined for the EU. Kyiv vehemently denies the charge.
Russia supplies about one-quarter of the EU's natural gas, 80 percent of which is transported through Ukraine. The disruption came as the continent was gripped by sub-zero temperatures.
More than 15 countries have been affected by the dispute, with Bosnia-Herzegovina, Bulgaria, the Czech Republic, Hungary, Serbia, and Slovakia among the worst hit. In Bulgaria, schools have been forced to close because there isn't enough fuel to heat them, while Slovakia has threatened to reopen a deactivated nuclear power station to make up for its power shortage.
The row prompted emergency EU talks in Brussels on Europe's reliance on Russian gas. Ministers were expected to address the issue of energy diversification to prevent such heating crises in the future.
The EU may also consider alternative fuel-supply routes, including the proposed Nabucco pipeline, which would pipe Central Asian gas across Turkey to Austria, and bypass Russia altogether.
The Briefing: Gas Crisis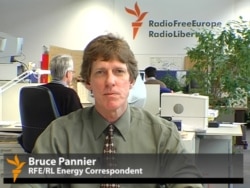 The Briefing
RFE/RL energy correspondent Bruce Pannier discusses the gas feud between Russia and Ukraine. Play
Factbox: Russian Gas Export Pipelines, Projects

A factbox on how gas gets to Europe from Russia and some of the new pipeline projects aimed at bringing more Russian gas to Europe and diversifying supplies. More