Georgia and Russia have agreed to an EU-sponsored peace plan to end five days of fierce fighting in Georgia that has killed at least several hundred people and left thousands homeless.
Georgian President Mikheil Saakashvili announced his country's acceptance of the plan on live television from Tbilisi in the early morning hours.
On August 12, speaking from the Kremlin, Russian President Dmitry Medvedev had ordered a halt to Russian military operations in Georgia and agreed to the peace plan, saying the "aggressor has been punished."
"I have made a decision to end the operation to force the Georgian authorities to peace. The goals of the operation have been achieved," Medvedev said. "The safety of our peacekeeping forces and the civilian population has been established. The aggressor has been punished and has suffered significant losses. Its armed forces are disorganized."
'The Real State Of Affairs'
Medvedev met in Moscow with visiting French President Nicolas Sarkozy. France, the current president of the European Union, and the Organization for Security and Cooperation in Europe (OSCE) have been trying to broker an end to the hostilities.
Following his meeting with Sarkozy, Medvedev presented a six-point plan for a cessation of hostilities in Georgia.
"One, not to resort to the use of force. Two, to end all military action completely," Medvedev said, adding: "Three, to provide access to humanitarian aid. Four, Georgian troops return to their permanent locations. Five, Russian troops move to the line prior to the beginning of hostilities; Russian peacekeepers exercise additional security measures until international mechanism are created. And six, the beginning of an international discussion about the future status of South Ossetia and Abkhazia and ways of ensuring their lasting security."
The announcement of an end to hostilities was welcomed as "extremely positive" by senior U.S. diplomat Matthew Bryza, who is in the region as part of international mediation efforts.
From Moscow, Sarkozy headed to the Georgian capital, Tbilisi, to speak with Georgian President Mikhail Saakasvili, who earlier in the day said his government would now declare the breakaway regions occupied territories.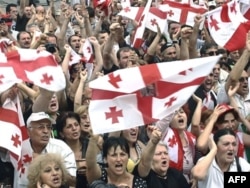 President Saakashvili told more than 100,000 demonstrators that he considers Russian peacekeepers in South Ossetia and Abkhazia "occupiers."
After Medvedev's talks with Sarkozy, the Russian president insisted that Moscow "recognize[s] Georgia's sovereignty," but added that "this doesn't mean that a sovereign state is allowed to do whatever it pleases. Even sovereign states have to answer for their actions."
"Territorial integrity is a separate notion," Medvedev said. "And while sovereignty is based on the will of the people and the constitution, territorial integrity, as a rule, represents the real state of affairs."
He went on to invoke the example of Kosovo, whose declaration of sovereignty from Serbia has been fiercely rejected by Russia, in suggesting that Georgia's breakaway regions should be allowed to determine their future status based on "strict compliance with international law."
"Can the Ossetians and the Abkhaz -- and do they want to -- be a part of Georgia?" Medvedev said. "This question should be put to them and they will give their own, unambiguous answer. It is not Russia or any other country that should answer this question."
Peace Negotiations
Finnish Foreign Minister Alexander Stubb, whose country currently chairs the OSCE, said on August 11 that the Georgian government had signed a cease-fire proposal worked out by the OSCE and EU, and was "carefully optimistic" that Russia would agree to the plan to end fighting in South Ossetia.
Zalmay Khalizad, the U.S. ambassador to the UN, characterized Medvedev's announcement as a "positive" development.
In Washington, U.S. Secretary of State Condoleezza Rice followed the day's developments by urging Russia and Georgia to end hostilities, saying progress apparently had been made toward a cease-fire but that it was important that all parties stop fighting.
"I believe that they believe that they have made some progress, and we welcome that and we certainly welcome the EU mediation," Rice told reporters at the White House after briefing President George W. Bush on French-led European Union efforts to mediate with Russia.
Rice said the United States supported Georgia's elected government.
"I want to make very clear that the United States stands for the territorial integrity of Georgia, for the sovereignty of Georgia, that we support its democratically elected government and its people," Rice said.
Reports Of Fresh Attacks
The Russian president's statement regarding an end to military operations came as Georgian officials said that different locations throughout the country were being targeted by Russian bombing raids.
There were reports that gunfire could still be heard in Gori, a city near the de facto border with South Ossetia that has been pounded by Russian air strikes in recent days, and Georgian television reported prior to Medvedev's announcement that the city center had been hit by bombs.
Georgia and Russia have been engaged in fierce fighting since Georgian troops moved into the pro-Moscow breakaway region of South Ossetia on August 7 after exchanging gun and mortar fire with separatist forces for days.
The offensive sparked a furious reaction from Russia, which sent troops, military aircraft, and tanks to repel Georgian forces in South Ossetia. Fighting expanded to another Georgian breakaway region, Abkhazia, as Russian jets pounded strategic sites within Georgia proper.
Post-Soviet Bloc Leaders Rally
In Tbilisi late on August 12, thousands of people turned out for a rally where they heard Saakashvilli announce that Georgia is pulling out of the Commonwealth of Independent States (CIS) -- the post-Soviet alliance of former republics.
Saakashvili also reached out to ethnic Georgians throughout the region and insisted he is not leading a campaign against Russia.
"I would like to thank representatives of all ethnicities. Georgia belongs to all of you," he said. "Georgia belongs to Ossetians, Abkhaz, Georgians; Georgia belongs to Georgia's regions; to Georgian Armenians, Georgian Azeris, Georgian Russians, Georgian Ukrainians. We have nothing against anyone. We are absolutely not against the Russian nation, for I know very well that Russia is not just [Ex-President and current Prime Minister Vladimir] Putin. Today, Russian politics is entirely [dominated by] Putin -- however, in the future we will definitely go back to each other."
The leaders of five former Soviet bloc states also attended the rally and spoke out against Russian domination. Ukraine's President Viktor Yushchenko told the huge crowd that "freedom is worth fighting for." Poland's President Lech Kaczynski said, "Our neighbor thinks it can fight us. We are telling it no."
The leaders of Lithuania, Latvia, and Estonia were also there.
Humanitarian aid has already begun pouring into Georgia, to the relief of thousands of refugees who have been made homeless by the fierce fighting.
The first relief flight from the UN arrived in Georgia early on August 12 as the estimated number of refugees approached 100,000, according to Ron Redmond, chief spokesman for the UN High Commissioner for Refugees.
The UN World Food Program said it had already distributed 10 days' worth of food rations to about 2,000 displaced people living in Tbilisi. Other relief supplies have been coming to the country from Germany, France, and other international donors.
Clashes In Georgia: Chronology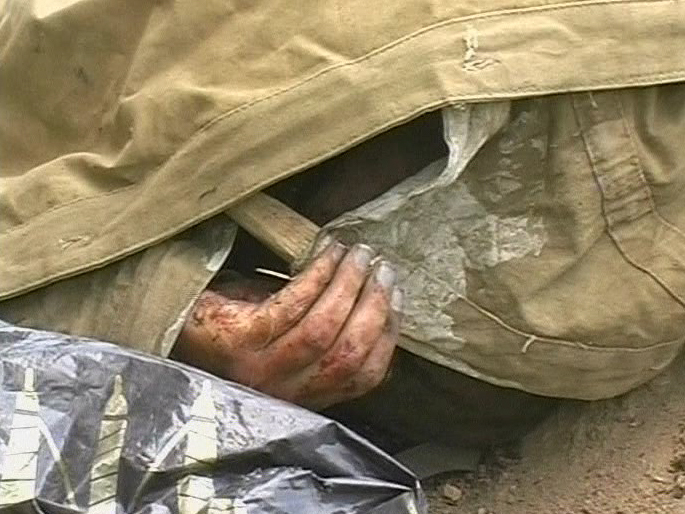 Clashes In Georgia: Chronology
Video of the fighting in Georgia's breakaway regions, and the latest efforts to end the conflict (Reuters video). Play


For full coverage of the clashes in South Ossetia, Abkhazia, and Georgia proper,
click here
.
Factbox -- South Ossetia
Status: The region broke away from Georgia in a 1991-92 war. A peacekeeping force with 500 peacekeepers each from Russia, Georgia, and North Ossetia monitors a 1992 truce.

Population: Approximately 70,000 (according to the 1989 census, about two-thirds Ossetian, one-third Georgian)

Capital: Tskhinvali

Languages: Ossetian, Georgian, Russian

Religion: Orthodox Christianity

South Ossetia: Timeline Of A Crisis