SOCHI, Russia (Reuters) -- Russia aims to speed up the new South Stream gas link to Europe by signing deals with transit states, and has rebuked the United States and former Soviet satellite states for backing a rival project.
Russia expects to sign deals with Italy, Bulgaria, Greece, and Serbia to outpace the Western-backed Nabucco pipeline, which is designed to bring natural gas from Central Asia and the Caspian to Europe and ease the continent's heavy dependence on Russian gas.
"Activities around Nabucco are being initiated by politicians, most often from across the Atlantic, because it is a political not an economic project," Russian gas-export monopoly Gazprom said in a statement.
Italian Prime Minister Silvio Berlusconi will travel to Russia's Black Sea resort of Sochi to meet Prime Minister Vladimir Putin and they will oversee the signing of a deal between Gazprom and Italian energy major Eni.
The two firms have already set up a 50/50 joint venture to build South Stream, which will start near Sochi, cross the Black Sea to reach Bulgaria, Greece, Serbia, Hungary, and ultimately Italy with supplies of at least 30 billion cubic meters a year.
Russia supplies a quarter of Europe's gas, with exports of 150 billion cubic meters a year. Gazprom's plans, such as South Stream and Nord Stream in the Baltic region, have fed European Union fears it will become yet more dependent on Russia.
"Some European politicians, mainly from new EU members, are against expansion of new offshore pipelines.... The genetic memories of their dependence on the USSR do not allow them to weigh all the pros and cons of such projects," Gazprom said.
The Kremlin is often accused of using energy as a weapon. European calls for greater diversification intensified after Russia cut gas to Ukraine twice in recent years due to pricing disputes amid icy political relations between Moscow and Kyiv.
The cuts led to serious disruptions of gas supplies to Europe and Gazprom argues that new pipelines under the Black and Baltic seas will ease its dependence on transit states like Ukraine and therefore boost Europe's energy security.
Sticking Points
Putin will also preside over the signing of deals between Gazprom and Bulgarian, Serbian, and Greek energy companies.
Some of the deals are not going as smoothly as planned.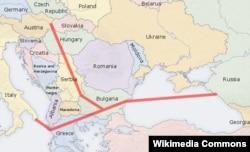 Map of South Stream gas pipeline
The "Kommersant" business daily reported on May 15 that the deal with Eni would be a preliminary protocol, rather than a final agreement, as the Italian company insists it wants to sell gas from South Stream along the pipeline's entire route, not just in Italy.
Gazprom opposes the move and has also asked Bulgaria to allow it to use the country's existing pipeline infrastructure instead of building new pipelines for South Stream.
Bulgaria, the country worst-affected by the latest Russia-Ukraine gas row in January, has opposed this plan. Sofia is also planning to host the Nabucco route.
Berlusconi's visit to Sochi will, however, give South Stream a much-needed political boost, which "Kommersant" said is coming at a price and was not only due to the friendly relations between Putin and the Italian prime minister.
Gazprom, Russia's most indebted company, had to buy back its stake in an oil arm from Eni in April at well above market price and Italy is now seeking more guarantees from Gazprom for its involvement in the project's financing.
While the fate of South Stream depends largely on its ability to reach final agreements with transit states and on financing availability, Nabucco needs above all to find reliable long-term gas suppliers.
So far only global majors BP and Statoil, working in Azerbaijan, have agreed to supply gas to it, while Baku itself is considering an option to sell gas to Gazprom.
Turkmenistan, seen as the other big potential supplier to Nabucco, refused to join the project at a summit in early May in Prague, despite its uneasy relations with Moscow.