YEREVAN -- Armenia's ruling party says the deepening of Yerevan's military cooperation with Russia will strengthen the balance of forces in the Nagorno-Karabakh conflict and discourage any attempt to resolve it by force, RFE/RL's Armenian Service reports.
Armenian President Serzh Sarkisian and his Russian counterpart, Dmitry Medvedev, are expected to sign significant amendments to a 1995 treaty regulating the presence of the Russian military base in Armenia after talks in Yerevan later this week.
Eduard Sharmazanov, the spokesman of Sarkisian's Republican Party (HHK), confirmed on August 17 that Armenia is reinforcing its military alliance with Russia in response to Azerbaijan's ongoing military buildup and threats of war.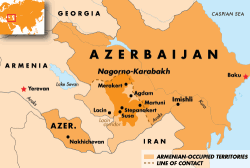 "If we want to have adequate national security, especially considering statements made by our eastern and western neighbors, we need to be able to develop counterbalancing mechanisms," he said at a news conference. "And I think that the agreement to extend the deployment of that base is also aimed at ensuring the balance of forces."
The amendments to be signed will extend Russia's basing rights in the city of Gyumri by 24 years, to 2044, and redefine the mission of its troops. They stipulate that the troops' mission is not only to protect "the interests of the Russian Federation" but also "to ensure the security of the Republic of Armenia" with the Armenian Army.
They also commit Russia to supplying Armenia with "modern and compatible weaponry and special military hardware."
Sharmazanov claimed that the new defense pact will "practically rule out a military solution to the Karabakh problem." He said "that is important not only for the Republic of Armenia, but also long-term peace and stability in the region."
HHK Deputy Chairman Razmik Zohrabian told RFE/RL on August 13 that the amended treaty will oblige Moscow to support the Armenian side in the event of renewed fighting in Karabakh.
Armenian critics of the amendments, among them some opposition politicians, dismiss such claims. They point out that a new Armenian-Azerbaijani war would be confined to Karabakh and surrounding territories that are not an internationally recognized part of Armenia. They are worried that Armenia will become even more dependent on Russia.
Sharmazanov rejected such criticism as "inappropriate and populist." He insisted that the treaty amendments will be beneficial for Armenia.
The breakaway Azerbaijani region of Nagorno-Karabakh has been controlled by ethnic Armenians since the end of a six-year war between Armenian and Azerbaijani forces in 1994.