The images are grim: photos of two dead young women who Russian police say detonated twin metro blasts that killed 39 people and injured more than 70 on March 29. It was the deadliest attack in Moscow in six years, staged in the heart of the Russian capital.
The authorities say the women were "black widows," suicide bombers from the volatile North Caucasus region whose husbands or other close relatives may have been killed by Russian forces. Police say they have closed-circuit video footage of the alleged bombers entering the metro along with three accomplices -- one man and two women said to have Slavic appearances. The footage has yet to be released to the public.
The government has promised to track down the blasts' organizers, but critics blame the security services for failing to prevent the bombings and say they're skeptical law enforcers can prevent future terrorism amid warnings of possible new attacks.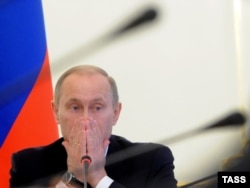 Prime Minister Vladimir Putin at a government meeting in Moscow today

Putin Extends Metaphor
Investigators are focusing on tracking down the alleged accomplices in the hope they'll lead to the bombings' masterminds. Prime Minister Vladimir Putin -- who a decade ago promised to wipe out Chechen terrorists "in their outhouses" -- vowed on March 30 they'd be found, using more of his trademark gritty slang.
"We know they're lying low," he said, "but it's already a matter of pride for law-enforcement agencies to drag them out of the sewer."
Few doubt the blasts were intended to taunt the authorities. One bomb exploded under Lubyanka, the headquarters of the Federal Security Service; another near the building that houses some of Russia's main state-controlled media. Officials said the bombs were packed with bolts and iron rods to maximize damage.
Escalating Caucasus Violence
Investigators said the alleged perpetrators of the metro attacks may have been part of a group of 30 suicide bombers trained by a Chechen militant leader named Said Buryatsky, and warned other members may be planning new attacks.
Some believe the metro bombings were revenge for Buryatsky's killing by special forces commandos earlier this month. The web-savvy Islamist leader had posted videos on YouTube and was accused of organizing an explosion last year that killed 28 people on a train traveling between Moscow and St. Petersburg.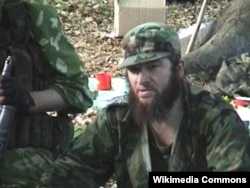 Doku Umarov in a 2003 photo
Last month, Chechen rebel leader Doku Umarov warned he would stage attacks in Russian cities, and a new video sent to the kavkazcenter.com website
shows Umarov claiming responsibility
for this week's Moscow blasts.
They came amid escalating, almost daily, violence in regions across the Caucasus. On March 31, a militant wearing a police uniform detonated one of two bombs that killed at least 12 people in the region of Daghestan. Among those killed in the well-coordinated attacks were seven police officers and an investigator.
Interior Minister Rashid Nurgaliyev appealed to Russians to help law enforcers.
"The events that have occurred point to the fact that terrorists today are choosing random targets," he said. "I ask for increased attention and vigilance at all vital facilities, at public venues in the whole of the republic -- first of all these are movie theaters, schools, colleges, universities."
Speaking at a cabinet meeting on March 31, Putin said the latest blasts were an "attack against Russia."
"I don't rule out that the same group [as in the Moscow metro blasts] is responsible," he said. "I won't characterize the attacks now. Everything was said after the tragic events in the Moscow metro."
International Links Alleged
Although the authorities have pointed their finger for the March 29 attacks on groups from the North Caucasus, they say they're not ruling anything out. National Security Council chief Nikolai Patrushev told the Interfax news agency today that foreign groups may have been responsible for the attack.
"There is Georgia," he said, "and its leader [President Mikheil] Saakashvili, whose actions are unpredictable."
On March 29, Foreign Minister Sergei Lavrov linked the attacks to international terrorist groups.
"All this reinforces the necessity of even stronger coordination of our international efforts," he said, "so that terrorists -- those who organize, plan, pay for terrorist acts -- cannot feel safe anywhere. It's a global terrorist network and we can only fight international terrorism on the basis of all the decisions taken by the international community, especially the United Nations."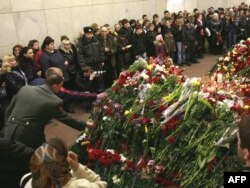 People pay their respects near a growing mound of flowers commemorating the victims at the Lubyanka blast.

Female Suicide Bombers
But analysts agree the attacks were probably staged by homegrown groups.
Female suicide bombers have often struck in the past. During the siege of a Moscow theater by a group of Chechen rebels in 2002, all 18 hostage-takers wearing suicide belts were women. Russian forces stormed the building after pumping in a sleep-inducing gas, killing 117 hostages.
In 2003, a Chechen woman set off a suicide belt at a rock concert, killing 13. Another suicide bomber's explosives failed to detonate at the same time but killed a police officer trying to defuse the device.
In December 2003, a woman bomber blew herself up in central Moscow, killing six people and injuring dozens. The following February, a woman set off a bomb in a Moscow metro car, killing at least 41.
Crackdown Feared
The metro attacks prompted some legislators to call for reinstating the death penalty.
But human rights activists are concerned police are using the bombings to crack down on civil liberties and harass people from the Caucasus and Central Asia. Opposition leaders are worried the government may further restrict political activity.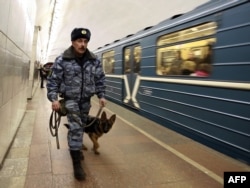 A police officer with a bomb-sniffing dog patrols inside the Lubyanka metro station in Moscow.
Putin came to power a decade years ago after beginning a wildly popular second war in Chechnya partly prompted by a series of apartment bombings the authorities blamed on Chechen rebels. Five years later as president, he responded to the Beslan school hostage crisis by abolishing the election of regional governors in favor of Kremlin appointments.
This time there has been unprecedented criticism of the security services, even in usually docile outlets. "Kommersant" newspaper alleged the authorities may have had advance warning of a possible suicide attack on the Moscow metro.
Corruption Blamed
Former security service officer Kirill Kabanov, who heads the National Anticorruption Committee, says he doubts police will be able to detain the alleged accomplices in the March 29 bombings alive. He blames the security services for failing one of their most important tasks by not preventing the bombings from taking place.
"A system that's completely corrupt from top to bottom doesn't provide warnings about terrorism from the ground," he said. "Beat cops on the street are supposed to investigate possible plots and identify suspects, but instead they're busy taking bribes from those people. That's one of the main factors enabling terrorism."
Residents of the North Caucasus say law enforcers are contributing to radicalizing the local population by arbitrarily arresting, torturing, and killing young Muslim men they later accuse of extremism.
Kabanov says among the authorities' biggest mistakes is failing to tackle poverty and corruption, which he identifies as a root cause of extremism.