At least 12 people have been killed by twin bombs in Russia's North Caucasus republic of Daghestan, including a top police official.
Nine police officers, including a local police chief, are among the dead in the blasts that rocked the town of Kizlyar early today, just two days after suicide
bombings on the Moscow metro
killed 39 people.
Russian Interior Minister Rashid Nurgaliyev said the first attacker detonated a car bomb early today in Kizlyar after being pulled over by traffic police near the city's Interior Ministry building.
"The driver violated the rules and, without stopping, began heading toward the city center," Nurgaliyev said. "Traffic police officers chased the car and had almost caught up with it when the explosion went off. Where was this fatal load headed? There is a school nearby; the city's Interior Ministry and Federal Security Service are also located there."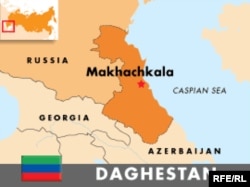 The blast killed two police officers.
Nurgaliyev said the second blast took place shortly afterwards at the same site, when a suicide bomber dressed in a police uniform blew himself up as investigators and onlookers gathered at the scene. The city's police chief was killed in the blast, among others.
"The terrorists' goal is to destabilize the situation in the country, destroy civil society, sow fear and panic among the population," said Russian President Dmitry Medvedev. "We will not allow that."
Rebel attacks in recent years have been largely limited to the North Caucasus region, including the republic of Daghestan, which neighbors war-battered Chechnya.
The March 29 bombings in Moscow have highlighted the Kremlin's failure to quell rebel activity in the restive region and fueled fears of a broader campaign of attacks.
Authorities said the blasts were set off by female suicide bombers with ties to militants in the North Caucasus. In a video posted on the Internet today,
Chechen rebel leader Doku Umarov
claims responsibility for the Moscow attacks.
The first blast on March 29 tore through Moscow's Lubyanka metro station, located beneath the headquarters of the FSB security service, during morning rush hour. The second bomb exploded less than 40 minutes later as a train pulled into the Park Kultury metro station.
Prime Minister Vladimir Putin, who launched a war against Chechen separatists in 1999, said on March 30 that those behind the bombings must be scraped "from the bottom of the sewers" and destroyed.
Putin today said that a single group might be behind the Moscow and Daghestan attacks.
The attacks were the deadliest in the Russian capital since a bomb on a metro train left 41 people dead in February 2004.
The first funerals of victims of the Moscow metro bombings are being held today.