MINSK -- Russian film director Maria Solovtsova has died in the Belarus capital, Minsk, after having flu-like symptoms, RFE/RL's Belarus Service reports.
Vadim Gusev, a representative of the Russian Embassy in Minsk, said Solovtsova was brought to Minsk's clinic No. 3 earlier this week with respiratory problems and a high fever and died on November 10.
Doctors are performing tests to determine if she had swine flu.
Gusev said Solovtsova, 44, was in Belarus shooting a documentary.
Swine Flu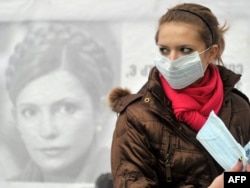 H1N1 Virus
As the fall flu season hits, fears of a swine-flu pandemic have grown in Eastern Europe after Ukraine saw a massive outbreak.
Click here
for RFE/RL's coverage of the virus's spread.