Russian forces have evacuated five posts in western Georgia, which Moscow had promised to dismantle. Among the closures were military camps in Nabada and Patara Poti, outside the strategic Georgian port of Poti, as well as in Teklati and Pirveli Maisi, near the town of Senaki.
Georgian Security Council chief Aleksandre Lomaia has confirmed the withdrawal.
Russian Foreign Ministry spokesman Andrei Nesterenko said th withdrawal from the Poti-Senaki line was taking place in accordance with a September 8 agreement between Russia and the European Union.
However, Lomaia said some 1,200 Russian servicemen still remain at 19 checkpoints and other positions, 12 outside South Ossetia and seven outside Abkhazia.
Russia said it would pull out the rest of its forces by October 11, as long as a 200-strong delegation of European Union observers is in place by October 1.
RFE/RL's Georgian Service correspondent in Poti, Tea Absaridze, observed today's partial Russian pullback.
"Today at 8 o'clock in the morning, the Russian invaders and armored vehicles left Poti," she said. "A big column has left [town]; eight huge, fully loaded trailers and 10 armored vehicles have departed. Today Russian soldiers were not aggressive towards journalists. They were waiving their hands but refused to give any comments."
Withdrawal Agreement


On September 8, Moscow agreed to withdraw its troops from "security zones" inside Georgia around South Ossetia and a second breakaway region, Abkhazia, within a month.
The deal, brokered by French President Nicolas Sarkozy on behalf of the European Union, included a commitment to pull out by September 15 from "monitoring posts" in the Poti region, where the oil and dry-grain shipment port is considered vital to the Georgian economy.
Russia followed up the pullback deal a day later by saying it would station about 7,600 troops in South Ossetia and Abkhazia, both of which the Kremlin recognized last month as independent states.
Policeman Killed


Separately, Georgia's Interior Ministry said a Georgian policeman was shot and killed near the breakaway province of Abkhazia. Interior Ministry spokesman Shota Utiashvili said the policeman was at a police post when shots were fired around 2 p.m. local time from the direction of a nearby checkpoint where both Abkhaz and Russian soldiers had been based. No other details were immediately available. He is the second Georgian police officer apparently killed in recent days by Russian soldiers.
Crisis In Georgia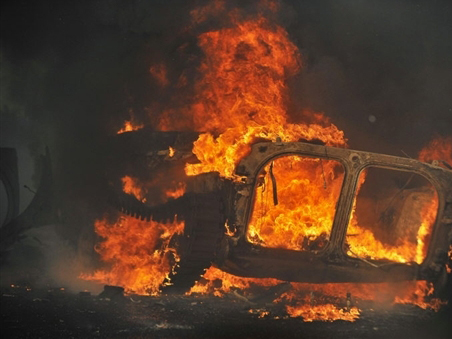 For RFE/RL's full coverage of the conflict that began in Georgia's breakway region of South Ossetia,
click here
.