As a high-ranking EU delegation visited Tbilisi after a successful diplomatic visit to Moscow earlier in the day, a key Georgian opposition figure visited the studios of RFE/RL's Georgian Service on September 8 to discuss the world's diplomatic efforts in relation to the crisis in Georgia.
Salome Zurabishvili, a former foreign minister and current chairwoman of the opposition party Georgia's Path, spoke with RFE/RL's Giorgi Gvakharia in Tbilisi.
RFE/RL:
How would you assess the role of the EU in resolving the current crisis, particularly in light of the latest round of shuttle diplomacy, when the EU delegation, led by French President Nicolas Sarkozy, visited both Moscow and Tbilisi, securing a promise of a Russian withdrawal from Georgia?
If not for this agreement, we would have remained a conquered, occupied country, with no rights of its own.
Salome Zurabishvili:
This is a very difficult process, and so were the negotiations that were held in Moscow [on September 8]. I breathed a sigh of relief when I saw a smile on Sarkozy's face. The agreement is perfectly clear. It is easy to see what it is about, and what it does not concern.
[The September 8] negotiations had a single subject matter, one and only priority -- the withdrawal of the Russian forces. And regarding this, [an agreement] has been achieved. If not for this agreement, we would have remained a conquered, occupied country, with no rights of its own.
At the moment, we still remain so, because the coming one month will have a determining significance. [We are] a country with limited sovereignty, let's say it this way. There are other examples of this -- Lebanon, and others. Should the current situation continue, we would become a country with chronically limited sovereignty. And for me, this would equal a catastrophe.
'Whatever Is Needed'

RFE/RL:
Those groups of society that are somewhat militaristically minded -- and, let's be honest, there are such groups -- might have gotten a bit angry with the fact that President Mikheil Saakashvili has agreed to the nonresumption of hostilities. How would you evaluate the significance of the letter that was delivered to Moscow?
Zurabishvili:
What I would say is this: Whatever is needed to make the Russian forces leave this country -- anything that would serve this aim -- is acceptable. In more general terms, I think this step -- for us to provide such guarantees -- itself also does not represent any kind of problem within the context of the Caucasus. I believe this is in line with those values and traditions that exist in the Caucasus, and I don't think there is anything to be ashamed of in this. To the contrary -- if we intend to coexist with some ethnic groups in the Caucasus, and be neighbors to others, this is where we should start.
The only aspect that I think is really problematic in all of this is the issue of one month, within which Russia plans to withdraw its forces. One week to leave Poti, and then one month to leave the rest [of undisputed Georgian territory]. This is a very dangerous period. I say this in full seriousness -- during this time, we should refrain from all moves. If it comes to it, we should even swallow a lot of things.
RFE/RL:
To whom are you referring -- the government, the opposition, society?
Zurabishvili:
Everyone. These days, there are no such things as "government" and "opposition." These days, it is just Georgia. This is what I'm thinking of. During this time, Georgia should do everything possible so that the Russians really leave, so that the country gets through [these difficulties] and avoids any potential reversal of processes.
There should be absolutely no provocative moves -- at least from our side. Of course, we cannot exclude a possibility that [the Russians] will undertake such steps. However, I should also say that I don't think they would do something like this because I believe the Russians have a lot of interest in the planned conference [on the Georgia conflict in Geneva on October 15], which in itself is another positive result.
I always believed matters like these could not be solved without the involvement of all sides -- and without consideration of all of the issues at stake. So the fact that the [October 15 Geneva] conference will discuss not just conflicts, but also issues of security, perhaps also energy, is very important.
'Simple, Yet Tragic, Question'

RFE/RL:
So far, you have not mentioned the role of the United States. How in synch, do you think, are the United States and the EU in their attitudes toward the conflict between Georgia and Russia? Perhaps we are dealing with somewhat different standpoints?
We are facing a simple, yet tragic question -- whether or not Georgia, as a [sovereign] state, will continue to exist.
Zurabishvili:
I think the existence of different standpoints can be observed within the U.S. itself. Political life in America is undergoing one of the most interesting times [in its history], both in terms of internal and foreign policies. And some forces -- in Russia, for instance -- knew that it was possible to take advantage of this [transition] period.
I repeat once again -- now, first and foremost, everything possible should be done to ensure that the Russian forces withdraw from Georgia. At the moment, no other matter is more important for Georgia's survival. We are facing a simple, yet tragic question -- whether or not Georgia, as a [sovereign] state, will continue to exist. This is the reason why I am against all kinds of street protests, or [calls to] oust the government. I have repeatedly said that at this moment, there can be no political opposition and its activities, because right now being in opposition means opposing your own country.
No single person -- and now I'm referring to Misha [President Saakashvili] -- should harbor the illusion that he will be able to save this country on his own. This is complete nonsense. I hope he understands that this loyal attitude is not directed toward him, but rather toward the entire country. He must try to form a certain "redemption group" together with other forces. I don't call this a government, a coalition, or a cabinet of ministers. This should be a special group, working to save the country. Either [Saakashvili] realizes that this is what's necessary, or himself falls victim to this tragedy. There can be no other way.
History demonstrates that not a single country has managed to come out of such crisis with the efforts of just one man -- unless all forces came together and stood united.
Crisis In Georgia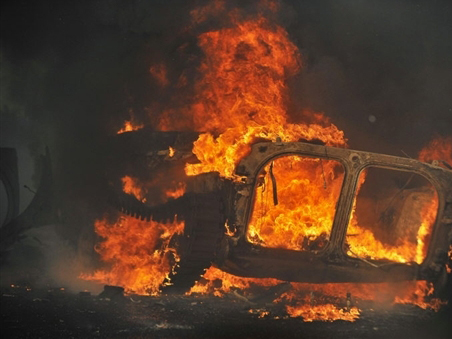 For RFE/RL's full coverage of the conflict that began in Georgia's breakway region of South Ossetia,
click here
.