MOSCOW (Reuters) -- Russia's top economic decision makers clashed over whether some taxes should be cut to help business through the first recession in a decade, or whether the budget cannot afford to lose any more revenue.
Officials painted a fairly glum picture of the oil-dominated economy, saying the economy could contract more than 7 percent in the first quarter of this year, while consumption is falling and the difficult times could last for the next three years.
In an early indication of a significant downturn, Russia's statistics service later on April 15 reported a 13.7 percent industrial-output slump in March in year-on-year terms, the second-biggest decline since 2002.
President Dmitry Medvedev has urged officials to present a united front on the crisis, but cracks are starting to show.
The fiscally prudent Finance Minister Aleksei Kudrin warned tax cuts would further undermine falling budget revenues in such a climate.
But the Economic Development and Trade Ministry, which focuses on longer-term development, and an influential Kremlin aide said lower levies may be needed to maintain competitiveness.
"For business as a whole...I agree, we should not increase the financial burden, not even in 2011," the Kremlin's top economic aide, Arkady Dvorkovich, told the Russian Union of Industrialists and Entrepreneurs (RSPP).
The government expects Russia's oil-dominated economy to shrink by 2.2 percent this year and says growth might start as late as in 2011, the year when higher social tax levies kick in.
Dvorkovich said they could be compensated by cutting the value-added tax (VAT) rate from the current 18 percent.
"This is my personal forecast...but I think that some decision to cut VAT could be expected from 2011," he said.
Economic Development and Trade Minister Elvira Nabiullina echoed his comments.
"We think we should not increase the total tax burden on businesses, especially at the time of crisis," she told the same meeting. "We can propose reforming the tax system.... We need to stimulate spending on innovation, social spending."
Cold Water
But Finance Minister Kudrin, who spoke after Dvorkovich and Nabiullina, discarded their suggestions as populist.
"If we talk about the coming years, then we have not completed the analysis of how the government will function in the conditions of new revenues," Kudrin said.
"I think my colleagues did not calculate, did not weigh up and made statements for the public."
He added that the 2009 budget revenues forecasts now looked "optimistic," while the economic contraction for the first three months of the year could be deeper than the expected 7 percent.
Earlier this week, Kudrin said Russia should slash its 2010 budget revenue forecast by more than 30 percent and cut planned expenditures by 13 percent, or $39 billion. He also said the state could borrow abroad for the first time in a decade.
Russia has amassed $121 billion in a "rainy day" Reserve Fund during a period of high oil prices, but the Finance Ministry reckons the money will only plug budget deficits until mid-2011 and urges caution.
"If we, as a state, keep sovereign ratings and risks at a normal level, that will also help the corporate sector," Kudrin said. "If we as a state let our sovereign indicators go, immediately the ratings of our companies will fall by one or two notches automatically, and so will their ability to borrow."
After rating agency S&P downgraded Russia last December and Fitch followed up in February, a number of Russian companies also had their ratings cut.
The management of the economic crisis has put the relationship between President Medvedev and his mentor, Prime Minister Vladimir Putin, under scrutiny by Kremlin watchers and investors after speculation the allies could be drifting apart.
Medvedev
used an interview
with a Russian opposition newspaper published on April 15 to chide the trade-off between prosperity and freedom that critics say was the hallmark of Putin's rule.
World Economic Crisis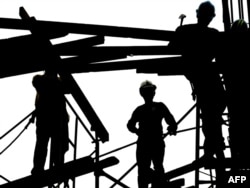 Multimedia coverage on the impact of the global financial crisis on markets and individuals across RFE/RL's broadcast region. More