Russian Patriarch Kirill is in Ukraine for an eight-day pilgrimage, exactly one year after a similar visit sparked angry protests and scuffles in Kyiv.
He arrived on July 20 in the southern port city of Odesa for what the Moscow Patriarchate has described as a "pastoral visit" to the predominantly Orthodox Christian country.
He will then travel to Dnipropetrovsk, in Ukraine's mainly Russian-speaking East, before heading to the capital, Kyiv.
In contrast to his first Ukrainian pilgrimage as head of the powerful Russian Orthodox Church last July, Kirill this time will stay clear of the county's Western, Ukrainian-speaking regions.
"He is wise enough to understand that a visit to western Ukraine would not be constructive," Ukrainian religious expert Lyudmila Filippovich says.
"His visit to Kyiv will be controversial enough since Russia is about to celebrate Christianization of Rus Day for the first time and the initiator of this holiday will not be in Russia on this date."
The patriarch no doubt remembers the chaos that marred his visit to Kyiv last summer, when his followers clashed with demonstrators hostile to his presence in Ukraine.
The Moscow Patriarchate retains formal authority over Ukraine's Orthodox faithful. But the country's Orthodox community is split between parishes loyal to the Moscow Patriarchate and an autonomous Ukrainian Orthodox Church that broke off from Moscow in the 1990s following the Soviet collapse.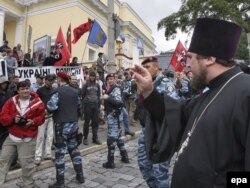 An Orthodox priest blesses demonstrators protesting against Kirill's visit in Kyiv last July.
Kirill's repeated calls for closer spiritual ties between Russia and its mainly Orthodox neighbors Ukraine, Belarus, and Moldova rile many Ukrainians, who say Kirill's vision puts Russia at the center of the Orthodox faith.
Moscow's Agent
Despite Kirill's assurances that his sole aim is to unite the country's fractious Orthodox Christians, growing numbers of Ukrainians also accuse him of doing the Kremlin's bidding and seeking to reassert Russian domination over their country.
Aware of the tensions, the Russian Orthodox Church insists Kirill's latest visit is strictly pastoral, and not political. But this has failed to convince many Ukrainians.
"Today, the Russian Orthodox Church is the most politicized church and clearly demonstrates its dependency on the political orders of the Kremlin," says Igor Isichenko, an archbishop of the autonomous Ukrainian Orthodox Church.
"The visit will yield many nice pictures, but I'm afraid it will not add to the spiritual growth of the faithful."
The recent election of Moscow-friendly Viktor Yanukovych as Ukraine's president cast further doubt on the patriarch's motives.
Kirill himself has made no secret of his support for Yanukovych, even flying to Kyiv to bless him following his election victory.
He is due to hold talks with Yanukovych and Prime Minister Mykola Azarov during his visit. And in a televised interview just days ahead of this week's visit, Kirill applauded the new government's political and economic performance.
"It's obvious that a political stabilization is already taking place," Kirill said. "Economic performance is more stable, relations with the world are deepening, with its close neighbors including Russia as well as with Europe and the United States. I think the lives of Ukrainians are significantly changing for the best."

Ukraine's Growing Importance
Many Ukrainians resent the Moscow Patriarchate for its consistent refusal to grant formal independence to the autonomous Ukrainian Orthodox Church, which it considers schismatic.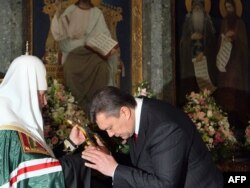 Newly elected President Viktor Yankovych (right) receives Kirill's blessing in Kyiv in February.
Advocates of an independent Ukrainian Church -- including Yanukovych's Western-leaning predecessor as president, Viktor Yushchenko -- contend that the country has more Orthodox faithful than Russia and deserves its own, separate church.
They note that the Moscow Patriarchate is losing growing numbers of faithful to Ukrainian splinter churches and is simply worried about losing influence in Ukraine.
Roman Lunkin, the director of the Moscow-based Center of Religion and Law, says this explains Kirill's frequent visits to the country.
"Ukraine represents a big part of the Russian Orthodox Church, and there are huge numbers of Orthodox parishes there. So Ukraine has vast importance for the Moscow Patriarchate.
Patriarch Kirill is aware that Patriarch Aleksy II rarely visited Ukraine and that this lack of attention was a mistake, because while Moscow was looking away different Orthodox movements and splinter churches developed in Ukraine."
Recent polls suggest that the Kyiv Patriarchate attracts some 14 million believers, while some 9 million Ukrainians visit churches under the Moscow religious authorities.
RFE/RL's Russian and Ukrainian services contributed to this report