Addressing Russian political leaders in the Kremlin's ornately gilded grand palace today, President Dmitry Medvedev repeated a call for a Soviet-style modernization program that would transform the country into a great power. He said Russia's prestige and well-being "can't be based on past achievements forever."
"The oil and gas infrastructure that generates the lion's share of the state's budget, nuclear weapons guaranteeing our security, industrial, and social infrastructure -- all that was mostly created by Soviet specialists," he said.
Russia's failure to diversify its "primitive" economy by easing its reliance on oil and natural gas exports, Medvedev said, is "humiliating."
Medvedev praised Soviet programs that transformed an agrarian society into an industrial superpower last century, but said Moscow couldn't remain globally competitive under totalitarianism. He said the new modernization program would be based on "democratic values."
"Instead of an archaic society whose [political] lords think and make decisions for everyone, we'll become a society of intelligent, free, and responsible people," he said.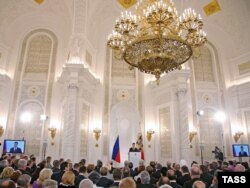 The speech was delivered in the ornate Grand Kremlin Palace.
Medvedev's speech virtually repeated an article he published on an independent website in September, the latest in a series of exhortations to recapture Moscow's lost superpower status.
Today, he presented a laundry list of areas for reform, including plans for cutting-edge medical, energy, space, and information technology industries.
"We can't wait any longer. We must modernize and renew all spheres of production. I'm convinced the survival of our country in the modern world depends on it," he said.
Medvedev called for reducing the role of the state in the economy by shutting down or reforming the massive state-run companies built up by his hard-line predecessor, Vladimir Putin. Medvedev said the Kremlin would reform the education system and create a Russian Silicon Valley. But he offered few details about how this major transformation would take place.
The president issued Soviet-style appeals to Russians to better themselves by working hard and avoiding corruption, which he criticized as one of the main obstacles to progress.
We need to arrest more people.
"We need to arrest more people," he said to polite applause.
Medvedev also called for the reduction of the country's 11 time zones.
Medvedev is near the midpoint of his four-year term. But many Russians still believe it's not their president who holds real power in Russia, but his mentor Putin, who stepped down from the presidency after his term limit ran out last year and moved on to become prime minister. Putin loyalists hold almost every important position in government and Medvedev's own administration.
Medvedev praised the political system created under Putin for creating plurality and freedom of speech. But in what could be seen as a veiled dig at Putin, he called for a more open society and reform of the regional electoral system by ending the practice of early voting and combating voting fraud. His plans follow angry nationwide criticism of regional elections last month.
Medvedev also called for boosting the country's military forces by deploying more than 30 new ballistic missiles by next year. And he promised investment programs to fight terrorism in the increasingly volatile North Caucasus.
"We'll do everything possible to ensure the well-being of people in the North Caucasus. But we'll deal harshly with those who get in our way," he said.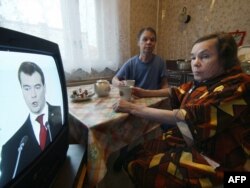 Medvedev said Russians should criticize only themselves for their country's failures.
Medvedev said the global financial crisis has hit Russian harder than most countries but praised the government's anticrisis measures.
The contents of his speech were kept secret before today, but the president earlier broke with tradition by inviting experts and members of the public to make suggestions.
Medvedev has generally presented a more conciliatory image than Putin, who often lashes out at foreign countries he says are seeking to destabilize Russian and steal its natural resources. Medvedev today said Russians should criticize only themselves for their country's failures.
On foreign policy, he said Russia isn't seeking to undermine NATO, but repeated a call for a new European security pact.
"We urgently need to make serious decisions on how to strengthen security in Europe. That's why we need a new, efficient platform," he said. "If we had had such an efficient institution capable of stopping aggression, Georgia wouldn't have had enough insolence to unleash a war against the people of South Ossetia."
Even as he spoke, Medvedev's image suffered a blow with the
publication of a "Forbes" magazine ranking
of the world's most powerful people. Putin came in at No. 3, far ahead of Medvedev, at No. 43. Medvedev trailed behind Deputy Prime Minister Igor Sechin, a close Putin ally widely believed to lead the country's most powerful clan, composed of former security service officers Putin has appointed to control the government and country's vast energy industry.
A think tank formed by Medvedev to advise him recently issued a report calling on the president to form his own chain of command to parallel Putin's. But analysts agree Medvedev has taken no significant steps to reverse Russia's growing authoritarianism. Some say that's because the president's relatively liberal messages are really part of an effort to confuse observers about the Kremlin's inner workings.
Speaking to RFE/RL's Russian Service, economist Andrei Illarionov, former top economic adviser to Putin, dismissed Medvedev's speech.
"I think it's a collection of loud phrases that don't have any serious basis," he said.
Illarionov said Medvedev's order to arrest more people contradicts the democratic principle of separation of powers by violating the independence of Russia's judicial system.
In his first state-of-the-nation speech, last year, Medvedev announced the president's term would be extended from four to six years. The new term limit would take effect in 2012, when many believe Putin intends to return to the presidency.
Putin is set to overshadow Medvedev again later this month, when he's set to take part in a nationally televised call-in program.